One of the things that Northern BC residents commonly appreciate about living in this area is our close proximity and easy access to nature and outdoor activities, like skiing, camping and hiking.
Northern BC's close proximity and easy access to outdoor activities
Unfortunately, this "easy access" doesn't always extend to everyone and truly experiencing nature can be a difficult, even impossible, task for some. This is why the Prince George hiking club, the Caledonia Ramblers, undertook the ambitious project of building a universal boardwalk for the Ancient Forest, a popular trail system 113 km east of Prince George that features huge ancient cedar trees that are protected as part of BC's rare inland rainforest.
"There has to be an equal playing field for all our citizens," said Nowell Senior, Caledonia Ramblers President, "so all citizens have an opportunity to live a wholesome, inclusive life."
Senior has been president of the hiking club for eight years and was a member for 10 years before that. He has seen the boardwalk, as well as the original Ancient Forest trail, come alive from initial idea through to extensive planning and final development.
The idea for the Ancient Forest nature loop trail was conjured up 10 years ago and was built in a six week period over the summer of 2006. The Ramblers knew the area was beautiful, with its unique stands of large, ancient cedar, but Senior and the hiking club never anticipated just how popular it would become.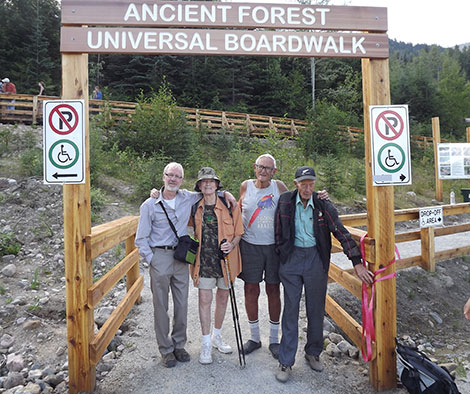 "Each year, more and more people were coming out to the nature trail," said Senior. "When we realized just how popular the Ancient Forest trail had become, we were aware of those in our community who could not have that experience, and our solution was the boardwalk."
Universal boardwalk provides full access to the Ancient Forest
So, in 2010, the club began exploring the idea of the universal boardwalk and approached local and provincial sponsors. The response was "completely supportive and positive," said Senior. The 450 metre boardwalk that would provide full access to the Ancient Forest would become a reality.
The project came to fruition thanks to the contributions of many generous sponsors and 200 volunteers. The volunteers helped to build and even carried a total of 60 tons of lumber (by hand!) from the parking lot to the furthest point of the eventual boardwalk (in order to have it safely tucked away after delivery).
Four seasons and 6,500 volunteer hours later, the universal boardwalk was completed in the fall of 2013. It is now a separate trail - fully wheelchair accessible with rest areas and benches along the way - that goes to a viewing platform above a stream and provides a lovely view of the cedars. In 2015, the Ancient Forest welcomed over 15,000 visitors, and the boardwalk was renamed the Nowell Senior Universal Boardwalk to recognize his amazing contribution and dedication to the project.
"I think that going out to nature, we get reacquainted with the natural part of our world," said Senior, on the importance of being active outdoors. "We're natural beings that depend on nature. We can sometimes become separated from it, and as a result we're not living as wholesome a life as we could."
Senior encourages others to look at their communities and find ways to improve their accessibility, whether it's providing better access to a park or creating a better mobility trail. His advice to get started: "Form a group of like-minded people who feel the same way... Put the idea out to organizations and entities that could be helpful in promoting such a venture."
Now, Senior says the Ramblers are going forward with more awareness of the need for inclusivity. "I would hope the enthusiasm with which the Caledonia Ramblers have approached providing full access to nature would be contagious and effect more groups to become involved in that work."
This article first appeared in Healthier You magazine. Find the original story and lots of other information about accessibility in the Fall 2016 issue.