Foodie Friday, an amazing series on the Northern Health blog
This Foodie Friday, I want to take the time to celebrate. August is always a time of celebration in my life, since my birthday happens this month - tomorrow in fact! We won't talk about how many of those birthdays I've had to date – let's just say there have been more than a few. August is also a great time to celebrate all of the local food in season here in BC. From cherries to Saskatoon berries, corn to zucchini, there is a huge variety of vegetables and fruits to suit everyone's tastes. But this August, I also want to celebrate something a little different. Today is my 15th Foodie Friday post on the Northern Health blog, and it is also my final post as I move on to a new chapter in my life.
Foodie Friday has been an amazing series to contribute to on the Northern Health blog. I love sharing my passion for food and cooking, and this has been a great way to reach out and share those recipes and stories. Taking a look back at my previous posts, I've definitely shared some of my favourite go-to recipes, including:
Just looking back on all of those makes me a little hungry. Hopefully I've been able to inspire you to get creating in your own kitchen, by either making one of the recipes I've shared, or recreating a family favourite you had forgotten about.
I did realize one thing looking back on my Foodie Friday posts – I've never shared a dessert recipe! Which seems crazy, because my love of cooking all started with baking and making desserts for family holiday meals. So I think it's only fitting that this celebration post be a dessert recipe – that just so happens to use some seasonal produce that you might not expect. Happy cooking everyone!
Fudgy Double Chocolate Zucchini Brownies
Makes one 8" by 12" baking pan (24 brownies)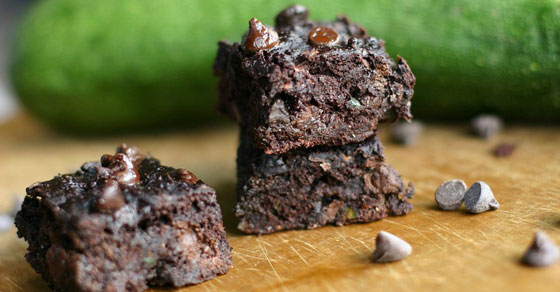 Ingredients:
2 eggs
1/2 cup brown sugar
1/2 cup unsweetened applesauce
1 Tbsp vanilla
1 cup all-purpose flour
1/2 cup cocoa powder
1 1/2 tsp baking soda
1/4 tsp salt
2 cups shredded zucchini (no need to peel)
1 1/2 cup chocolate chips, divided
1 cup chopped walnuts (optional)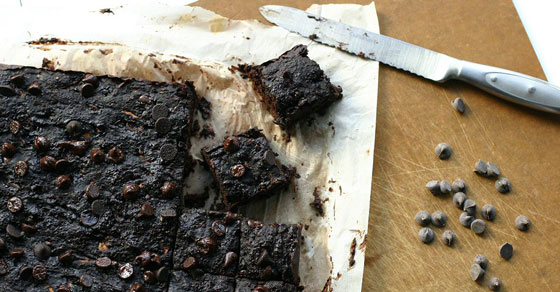 Instructions:
Preheat oven to 350 degrees F. Line an 8" by 12" baking pan with parchment paper. Set aside.
In a stand mixer, beat the eggs until fluffy and pale yellow.
Add in the sugar, applesauce, and vanilla. Mix on low speed until combined.
In a medium bowl, combine the flour, cocoa powder, baking soda, and salt. Add gradually to the wet mixture, using low speed, so you don't have flour flying everywhere. Once combined, remove from stand mixer.
Stir in zucchini, 1 cup chocolate chips, and walnuts (if using) into the batter until combined. Spread into prepared baking dish, making sure to get the batter into the corners. Sprinkle with remaining ½ cup chocolate chips.
Bake for 25 – 30 minutes. The shorter time will give you a more fudgy consistency. Cool on a wire rack. Cut into squares and enjoy!
Note: If you don't have a stand mixer, you could also using a hand mixer or just a good ol' wooden spoon and elbow grease!