Food, a great connector of culture, relationships and family
As kids, my sister and I spent many a summer day at my grandparents' house in East Vancouver. We did all sorts of fun things – I remember lots of cards games with grandma, walks to the corner store and grocery shopping trips (turns out I've always loved grocery shopping), and helping out in my grandpa's small but impressive backyard garden (he even had two rows of corn!). Sometimes my two cousins would also be there, which meant endless hours of make believe games, and our annual trip to the PNE for a day filled with rides (and a little cotton candy). But I think my best memories from those summer days came from time spent in the kitchen.My Grandma and Grandpa Bloudoff were of Doukhobor heritage, and this was reflected in many of the delicious foods they would make with us when we visited. We would set up assembly lines to stuff and pinch together homemade perogies, or help mix up the fruit filling for our favourite Russian fruit tarts. But one of my absolute favourite dishes was the borscht my grandparents made. As a kid, I can't tell you why I loved it – it was just a vegetable soup. It was one of my favourite things to eat when I was at their house and I was so happy when we were sent home with jars of soup to eat later.
Fast forward to my early 20's, when I decided I wanted to learn how to make this borscht. I had realized their borscht was different – it was tomato based, and didn't include beets like many other borscht recipes I had seen. I needed to know their secrets! My grandpa didn't have a recipe written down, so I convinced him we needed to spend an afternoon together where he cooked and I documented all of the ingredients and steps involved. Not only did I learn the recipe, but we also had the opportunity to reconnect as adults- all because of a pot of soup.
Both of my grandparents have since passed, and I'm so grateful to be able to look back on moments like these. Food really is that great connector of culture, relationships, and family. Now when I dig into a big bowl of my grandpa's borscht, it not only fills my belly with hearty nourishment, but it fills me with family memories and makes me smile.
Grandpa's Doukhobor Borscht
(recipe from EvergreenEats.com)
Makes 10 – 12 servings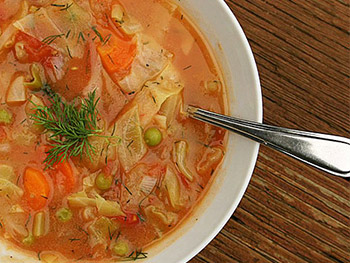 Ingredients:
6 cups water
3 large potatoes, peeled and cubed
3 stalks celery, chopped
3 carrots, peeled and chopped
1 cup green peas (fresh, frozen, or canned)
796 mL (28 oz) can diced tomatoes
2 large onions, diced
1 small head cabbage, shredded or thinly sliced
6 tbsp butter, divided
1/3 – 1/2 cup fresh dill
Salt and pepper to taste
Sour cream or heavy cream, for serving (optional)
Directions:
In a large soup pot or Dutch oven, cover the potatoes with the water. Bring to a boil, reduce heat to medium, and cook until just tender.
Transfer the cooked potatoes to a large bowl with a slotted spoon, leaving the cooking water in the pot. Mash the potatoes with 2 tbsp butter and 1/3 of the canned tomatoes.
Turn the heat on the pot up to medium-high. Add the celery, carrots, peas, 1/2 the onions, 1/2 the cabbage, 1/2 the potato/tomato mixture, and 1/2 of the remaining tomatoes to the pot. Bring to a boil then reduce heat to a simmer.
Heat a skillet over medium heat. Melt 2 tbsp of butter then add the remaining onions. Cook for approximately 5 minutes until translucent (do not brown them). Add the remaining potato/tomato mixture and remaining tomatoes. Cook another 5 min then add to the pot.
Heat the remaining 2 tbsp of butter in the skillet, and add the remaining cabbage. Cook until soft, but do not brown, approximately 10 min. Add to the pot.
Add fresh dill to the soup, season with salt and pepper to taste. Allow to simmer for 5 more minutes. Ladle into bowls and serve with a dollop of sour cream or drizzle of heavy cream if desired.
Notes: If you have other veggies hanging around your fridge or freezer, throw them in. Green beans, peppers, spinach...maybe even some beets!