Wildfire evacuee, Stan Northcott, celebrates 100th birthday
Despite being evacuated to Vanderhoof due to wildfires, Fort St. James resident Stan Northcott was able to enjoy a party for his 100th birthday on August 29.
"He's doing pretty good for 100," says his daughter Bonny Northcott. "He still beats me at crib."
The secret to his long life? "He just stayed really active," says Bonny. "He never stopped moving around. He had lots of family around and lots of hard work, his whole life."
Birthday celebration brought big smiles
Family members and Northern Health staff worked together to arrange the birthday celebration at Stuart Nechako Manor in Vanderhoof, Stan's temporary home during the wildfires. Northern Health staff stepped up to pull together the celebration on top of coping with an influx of wildfire evacuees.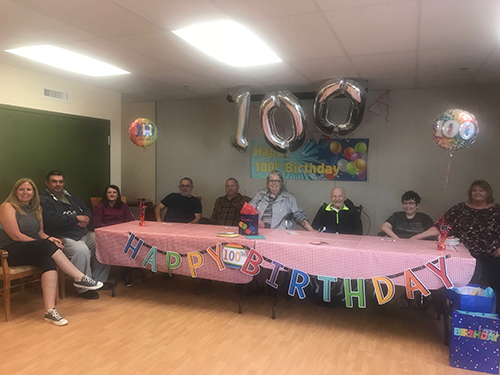 "Arranging the party was fun," says Marnie Bell, Recreation Therapist. "Stan was full of smiles!"
Working together, Stan's family and Northern Health staff coordinated special decorations, balloons, live music, refreshments, and two cakes ('cause when you turn 100, you deserve two cakes!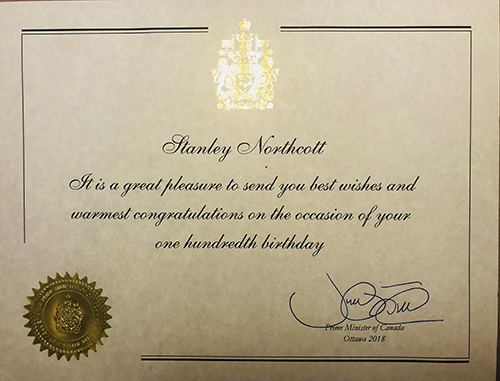 To help him celebrate, Stan's family came from Vancouver, Mackenzie, Fort St. James, Norman Lake, and Beaverlodge, Alberta.
"The facility in Vanderhoof is beautiful," said Bonny. "They're really nice there. When we arrived for the party, the staff had a big room all set up with decorations and a cake."
"Kudos to Marnie Bell and Halainna Ellis for all their hard work," said Chona Dick, Clinical Care Coordinator. "Stan had the biggest smile on his face, it was really cute. Then he blew out the candles, and he only had two girlfriends!"
Best wishes to Stan Northcott for many happy returns!