IMAGINE Community Grants help make Northern communities healthier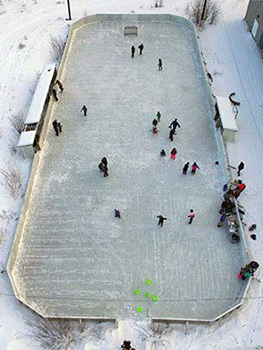 Northern Health's IMAGINE Community Grants provide funding to a variety of groups with projects that make Northern communities healthier. Our hope is that these innovative projects inspire healthy community actions where you live! Check out the story below and read more IMAGINE Community Grant stories.
What do you get when you take a revitalized outdoor skating rink, invested and engaged community partners, new equipment, and a community of children, youth, and families looking for recreational opportunities to enjoy during the long, cold winter? You get a Community Skating Project that benefits the entire community!
Community skating project
Last spring, the principal of the Tahltan School, located in Telegraph Creek, applied for an IMAGINE Community Grant to support the school's interest in providing skating equipment and activities for the students that would also be accessible and inclusive for the entire school community. The original plan for the project was to get the gear and skate on the local lake and, through a partnership with the Tahltan Band, to offer a few trips to the nearest indoor rink, located 112 km away in Dease Lake.
Fortunately for the staff, students, and families of Telegraph Creek, an unexpected and welcome partnership along the way with the local RCMP made this community initiative even more successful than the original plan! The RCMP staff took on the task of putting in ice at the local outdoor ice rink in Telegraph Creek and maintaining it throughout the season so that all could access and enjoy the rink! They even offered a celebration day once the ice was ready where they gave out free hot chocolate and snacks for everyone.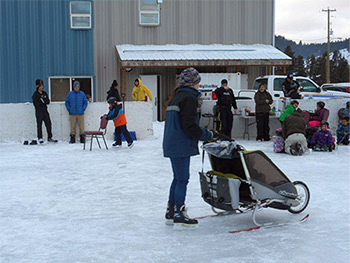 The positive impact of having outdoor recreation was amazing to witness. The rink was mainly enjoyed by the youth, and in a community where there are limited recreational opportunities, it was rewarding to see them having so much fun.- Mark Van Wieringen, First Nations policing constable
The great success of the new project also came with some challenges that are not unique to our Northern communities:
One challenge was weather: not having a usable ice rink until the weather was cold enough and then it became too cold! There were plans in place to get a school bus for our school that we could use for trips to skate in Dease Lake but unfortunately that bus was delayed, which made it difficult to organize a trip. We were lucky that the RCMP staff were able to make ice on the outdoor rink this year. - Nancy Danuser, vice principal, Tahltan School
Through community partnerships, some flexibility, and a bit of seed funding, fantastic project ideas can be realized and last in the community for years to come:
The IMAGINE grant has made it possible for children without skates to participate… it has allowed us to support other community events like the Winter Carnival by lending skates to those who need them. - Nancy Danuser
What can you do to improve the health of your community and who can you partner with to make it happen? Submit your IMAGINE grant application today!
Imagine Community Grants
IMAGINE Community Grants provide funding to community organizations, service agencies, First Nations bands and organizations, schools, municipalities, regional districts, not-for-profits, and other partners with projects that make Northern communities healthier. We are looking for applications that will support our efforts to prevent chronic disease and injury, and improve overall well-being in our communities. At the time of this story's publication, the deadline for the next cycle of IMAGINE Community Grants is March 31, 2017.