Looking at a map of the Northern Health (NH) region, there's no denying it: The North is huge. With half the province in its jurisdiction, the variety of people and places in the NH region is unmatched in BC. This is why it's so important for us as an organization to utilize our most valuable assets: Our local people! Enter the role of a Recruitment and Retention Ambassador. We caught up with Brad Leier in Terrace to discuss more about his role in the Northwest.
Can you tell us a bit about yourself and your background?
I live in Terrace, British Columbia with my wife Dena, and our two children Melanie and Jackson. Together, we operate a small family farm located on the south side of town: Graham Acres Homestead. We are in the process of launching a creamery, thanks to our growing herd of dairy goats and day jobs to fund the dream!
I graduated from the University of Alberta with a Bachelor of Science in nutrition before starting my career in health care as dietitian with Alberta Health Services. In 2011, my soon-to-be wife and I moved to Prince George to join Northern Health. Between 2011 and 2019, I worked in a variety of positions, including as a clinical dietitian, chronic disease management coordinator, practice support coach, and long-term care manager. From 2019 to 2022 I stepped away from Northern Health to take on Coast Mountain College's newly created Associate Dean of Health position. Considering Northern Health my "home away from home," I was happy to return in November 2022.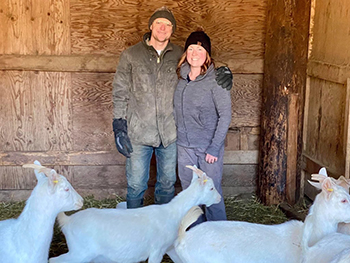 As Recruitment and Retention Ambassador for the Northwest, can you explain a bit about what you do?
In this position, I support all sorts of recruitment and retention activities in the Northwest. The recruitment aspect of my role is centered around building recruitment capacity through establishing and maintaining mutually beneficial relationships with community stakeholders. 
Some examples of community stakeholders I work with include K-12 schools and school districts, Indigenous employment and training offices, community service groups, WorkBC centres, and post-secondary institutions. 
My day-to-day work, includes conducting high school class visits, recruitment presentations, helping prospective staff navigate the application process, participation in career fairs, as well as increasing career and employment councillors' awareness of the many careers available at Northern Health. Having just recently started in the role, I am working with teams in the region to establish how best to support retention related activities, both existing and new!  
What is your favourite part of your role at NH?
Being able to be an ambassador for the health authority and the health sector. Having a passion for health and health care, engaging with people about both the "need" and the opportunities that exist with Northern Health provides me a tremendous sense of satisfaction.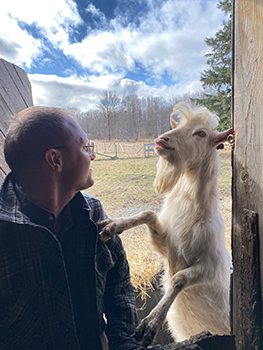 What's your favourite thing to do in your community / region?
It really depends on the season. Springtime at our farm is probably the most fulfilling because it is goat kidding season, which brings new life to the farm. Truth be told, it's also an anxious time as we wait and assist when needed with goat kidding. All-in-all it's tremendously rewarding! I live to fish in the summer – just ask my wife! Thankfully, both of our kids have taken an interest, which makes for great family fishing adventures. Fall brings with it the joys of harvesting our garden as well as foraging, or as our kids refer to it, "treasure hunting", for edible wild mushrooms. As winter sets in I do my best to make up for lost TV time dating back to spring, summer, and fall!
If you could show someone one thing about your region to prove its awesomeness, what would you share?
Via Rail's passenger train ride between Terrace and Prince Rupert. Regardless of the season, the scenery is amazing!  
Anything coming up in your community / region that you'd like to promote?
On February 9, the Gitanmaax Band is hosting their annual career fair at the Gitanmaax Hall. In addition to including local employer booths and breakout sessions, the evening will see the hall transition from a career fair to a social event including live music. 
A big thanks to Brad for sharing his story! If you reside in or are visiting the Northwest and bump into him, be sure to say hello!
Interested in opportunities in the Northwest? Check out our available listings here: Northwest opportunities.