High temperatures can't keep this community from coming together when people need it the most! Northern Health, Ksan Society, Kermode Friendship Society, City of Terrace, Ministry of Social Development and Poverty Reduction, First Nations Health Authority, Save on Foods, and the Terrace and District Community Service Society all came together over the weekend to put together a much needed cooling centre in Terrace.
With temperatures rising to over 30 degrees Celsius, everyone rallied together in short order to set up a cooling centre at the Terrace Sportsplex to help people get out of the heat. Each agency put forward staff, supplies, and/or donations to make it work.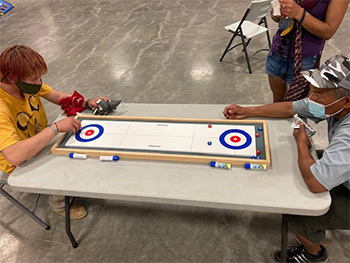 Various agencies also have people handing out water and snacks. There's an indoor and outdoor space with a tent and the Northern Health Northwest Specialized Services Mobile unit coming around outside.
Terrace Sportsplex cooling centre
The cooling centre has tables, movies, games and mats for people to lie down on if needed.
The cooling centre has been running Saturday and Monday 11 am to 7 pm, with thoughts to extend it further in to this week.