"I can't emphasize how important it is for health care professionals to take the lead in asking these questions (about cultural practices), in peeling back the layers of assumptions, and finding out specifically how we can assist and make any transition smoother. Things will go better if those questions are asked right away and then I've always found when that happens, those questions are met with relief almost and answers are immediate" - Coco Miller, Kitselas, Tsimshian Nation
The Terrace/Kitimat and Area Aboriginal Health Improvement Committee (AHIC) is pleased to launch two videos that share information for health care providers about the Tsimshian, Tahltan, Haisla, Gitxsan, and Nisga'a peoples' cultural practices and how they impact their health care needs.
In 2014-2016, Aboriginal Health provided financial support for each of the eight AHICs in the north to develop local cultural resources. Development of these resources was guided by the question: "If I were a new health care provider in Northern Health, what you would want me to know?"
The Terrace/Kitimat and Area AHIC produced the following videos which focus on cultural practices for important life transitions:
These videos cover important topics relevant for life events that often take place in the health system including:
the importance of families gathering and being together,
the cultural roles of the family,
the diversity of practices among families and Nations,
how Northern Health staff can support families and their cultural practices, and
the importance of communication between the patient/family and care providers.
"I think it's very important to have family there and friends to be around us to support us, pray for us. They are there to feed us. Especially for the young ones to be there to witness what we have to go through during the time of a death. It's very important for them to know how we feel and see the experience." -Roberta Grant, Haisla Nation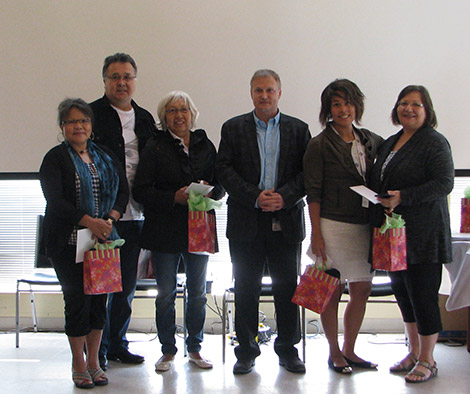 "The Grandmother comes to visit and is in the delivery room also. She will take the baby and examine the baby to look for any recognizable birth marks on the baby because, in our belief, our family comes back through reincarnation. An aunt of the father also needs to be in the delivery room because we have her role to be to cut the umbilical cord because this signifies their role as the father clan. The child is no longer just belonging to the mother's family (the maternal family) but the child also belongs to the paternal family." - Verna Howard, Gitxsan/Wet'suwet'en Nation
I encourage you to take a few minutes to watch these videos and share them with others. The information contained in these videos is an amazing gift from the Tsimshian, Tahltan, Haisla, Gitxsan and Nisǥa'a peoples.
I hope the videos inspire all of us to continue collaborating and learning and that you find them helpful in your life and your work.
If you have any questions or would like to learn more, I encourage you to contact Lloyd McDames, the Aboriginal Patient Liaison in Terrace.
Another way to develop your understanding of First Nations and Aboriginal peoples is the San'yas Indigenous Cultural Safety Training, an online course by the Provincial Health Services Authority.
Find more work done by the AHICs from across the north in this booklet of local cultural resources.
Cultural practices around birth
Cultural practices around illness and death