We're living in extraordinary times! While we've been asked to slow down and stay home to stay safe, it's important that we follow this direction while also taking care of our physical and mental well-being.
Physical activity is especially important at this time because it helps us cope with stress, boosts our mood, supports our immune system, and helps us sleep. Being active outside is acceptable and recommended and, in my community, I've seen many people walking, wheeling, biking, and skateboarding. It's made me wonder if having our busy schedules turned upside down actually has a silver lining: it's allowed us to do things differently on a day-to-day basis. It makes me happy to see people getting active in the fresh air.
Fresh and fun ideas for staying active
People have been thinking outside the box to stay active and safe. Check out these fabulous and inspiring ideas:
While walking outside, kids of all ages can spot hearts residents have put up in their windows. What started as the Hearts of PG, has literally spread worldwide to become #WorldofHearts2020!
No-touch scavenger hunts can be created in no time. Instead of physically collecting items, take photos or complete a checklist while searching for treasures, shapes, or colours.
Walking is one of the best things we can do for our health. For many of us in theNorth, it's an easy thing to do while maintaining a safe distance from others. If you have a dog, it will love you a little more every time you grab that leash!
Spring is an ideal time to do some neighbourhood cleanup (with proper gear to keep you safe, of course!). Grab a bag, gloves, and maybe a garbage pick-up tool, and pick up trash while you walk! Be sure to wash your hands afterwards.
Sidewalk chalk activities have made a comeback! How long has it been since you've played hopscotch? See how creative you can get with your path.
Neighbourhood physical distancing flash mobs, balcony dance parties, and exercise sessions are just a few of the inspirational ways communities have come together to support physical, mental, and social wellness.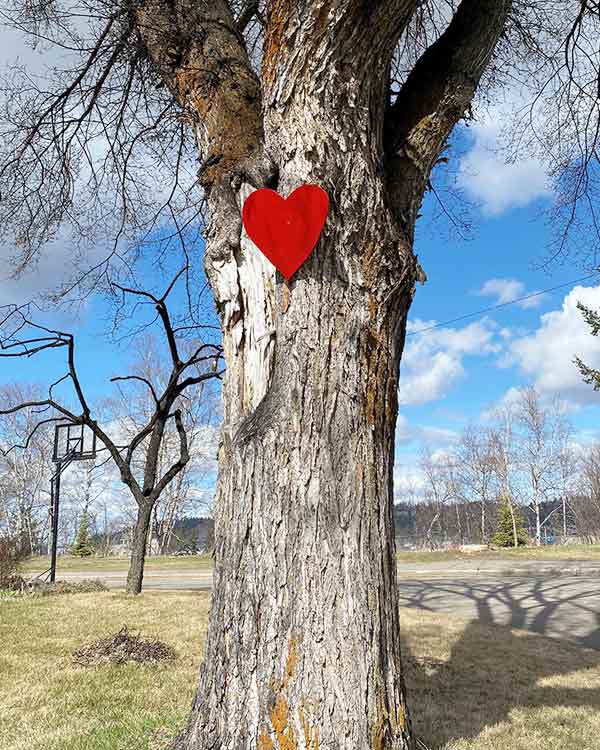 Sharing the roads
On a larger scale, some communities have agreed to trial projects with the goal of making it easier for residents to be active and safe:
Some areas are exploring Open Streets concepts, where streets that are closed to vehicle traffic, making them safer for walking and wheeling. Although this concept is usually used to bring people together, in the current situation, it's being promoted as a way to give more space to let people to be active while maintaining the minimum two-metre/six-foot physical distance from others.
Some municipalities are also looking at reallocating space on larger roads to make more room for people who are walking, wheeling, cycling, etc. Vehicle traffic is lighter at the moment, so this could be a genius way to trade space and help people be active outdoors.
Share your ideas
These examples show that there are many simple ways to be active outside. Being active helps release tension, brings joy, lets us reconnect with nature, and supports us to be positive and resilient. What are some ways your community has been - or could be - supporting physical activity in out of the box ways?
We'd love to hear about, and share, your ideas.