Shift your focus to fresh whole foods
Is your kitchen done with the winter blues? If you're like me, spring is the perfect time to get re-inspired and focused around healthy eating. Fresh local produce is becoming more abundant and the bright sunny weather brings with it tasty and delicious barbecue season to enjoy all that fresh goodness!
No fancy juice cleanses needed here, just a shift in focus to enjoy fresh, whole foods again! A little planning and inspiration can go a long way:
Hot weather? Ditch the oven and try these easy options: Veggie-loaded pasta salads, quinoa/grain salads, sandwiches, wraps, or fruit and cottage cheese plates.
Need some veggie inspiration? Try to play up your vegetables in new and exciting ways. Try grilling veggie kebabs on the barbecue, throwing together a fresh veggie platter with your favourite dip, or try my all-time favourite: Vietnamese salad rolls … because salad wrapped up is way more fun!
Short on time? Plan out a few meal ideas on the weekend. This will save you from hitting the grocery store multiple times and will help you make a conscious effort to eat fresh, minimally processed foods.
Thirsty? Skip the pop, fraps and sugar-heavy beverages. Grab some lemon water or home-brewed ice tea instead. If you're a juice drinker, try cutting back or mixing half with club soda.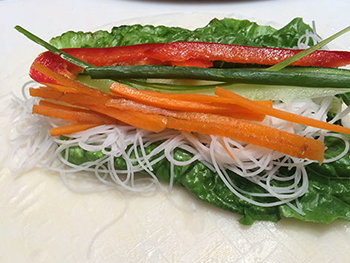 Vietnamese Salad Rolls
Makes 40 half-rolls
Prep time: 1.5 hours
Ingredients:
Rolls
20 (8 inch) rice paper wrappers
4 oz rice vermicelli noodles
2 carrots
2 red peppers
1 cucumber
1 bunch romaine or butter lettuce
1 bunch green onions (white parts removed)
1 bunch fresh mint
Peanut dipping sauce
3/4 cup creamy peanut butter
1/3 cup water
4 tbsp hoisin sauce
4 tsp low-sodium soy sauce
2 tsp chili-garlic paste (I used sambal oelek)
2 garlic gloves, minced
1 teaspoon sesame oil
sesame seeds for garnish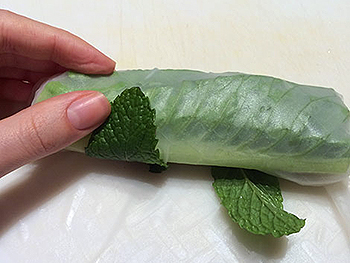 Instructions:
For peanut sauce: Whisk all ingredients together, sprinkle with sesame seeds. Set aside.
For salad rolls: Cut vegetables into thin strips. Lettuce leaves can be cut in half width-wise.
Boil 4 cups of water in a kettle. Put rice noodles in a bowl and cover in boiling water. Let sit 5 minutes then drain out water.
Prepare work surface with tray of cut-up vegetables, lettuce leaves and cooked rice noodles. Fill deep dish (I used a pie dish) with hot tap water and have rounds of rice paper ready.
To roll each salad roll:

Place 1 rice paper wrapper in hot water until soft and pliable (approx. 10-15 seconds). Remove from water and place on dry plastic cutting board (or clean damp dishcloth).
Lay lettuce leaf just above the centre of the wrapper, leaving about 1 inch of space on each side.
Fill lettuce leaf with 1/4 cup cooked rice noodles, 2 strips cucumber, 3 pepper strips, 5-6 slices thinly sliced carrot, 2 mint leaves and small slice of green onion.
Fold top of rice paper wrapper over the bundle of cut veggies, then fold in sides and roll TIGHTLY.
Once you are finished rolling all the salad rolls, cut each one in half diagonally. Plate with peanut sauce for dipping.
Salad rolls can be made two days in advance, simply leave whole (un-cut) in a tray. Cover with a damp paper towel then wrap well with plastic wrap and refrigerate.