August 18th, 2021 was a milestone 50th anniversary for the Chetwynd General Hospital. Community members marked the occasion with a garden party, BBQ, and birthday cake. Despite the rain, there was a wonderful turnout that included current and former staff, the Mayor of Chetwynd, and other members of the community. 
Cathy Ulrich, CEO of Northern Health, reflects on this anniversary:
"On behalf of Northern Health and the Board of Directors, Colleen Nyce, Board Chair and I congratulate the community of Chetwynd and the staff and physicians who work at the Chetwynd Hospital on this 50th anniversary. Fifty years of operation is a milestone anniversary!
"In reviewing some of the history of Chetwynd, the following was interesting - the community was named Chetwynd on July 1, 1959. Prior to this, it was known as Little Prairie. Significant community development occurred during the 1960s into the 1970s including the development of a rodeo grounds, curling rink, library, fire hall, airstrip, and the hospital. The hospital was established in 1971.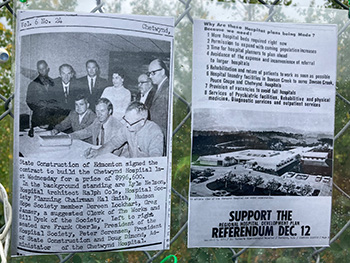 "We are very grateful for the dedication of the staff, physicians, and health care leaders who have chosen to deliver health care services in Chetwynd. We are also sincerely thankful to the community leadership and organizations in Chetwynd and area who continue to actively support the provision of health services in the community. This community support and partnership makes a difference for Northern Health and for those who choose to live and work in Chetwynd.
"Once again, congratulations! This is a milestone to celebrate."
The following businesses helped to make the day extra special through their donations and contributions:
Sukunka Natural Resources Inc.
IGA
The District of Chetwynd
Chetwynd Fire Department
Melory's Cups & Cakes
Valley Pure Water
Tim Hortons
Val Kibsey
K & K Tricker Family
C.I.C.C.C.S.—Chris Larsen
PeaceCounty Rentals
The Pencil Box
PeaceFM
Conuma Resources Limited.
In addition, thank you to the following people who volunteered their time to help organize the event: Darlene Danco, Dagny Ferron, Jennifer Nickel, Becky Borton, Victoria Peterson, and numerous other individuals.
Congratulations to the Chetwynd General Hospital on 50 years!