Every year, medical radiation technologists (MRTs) are celebrated across Canada on the week of November 8. The Canadian Association of Medical Radiation Technologists (CAMRT) highlights the important role they play in the health care system working as radiological technologists, nuclear medicine technologists, magnetic resonance imaging technologists, and radiation therapists.
MRTs are highly trained experts who have specialized skills in medical imaging and radiotherapy technologies. They are the vital link between new and innovative technology and the diagnosis and treatment of patients.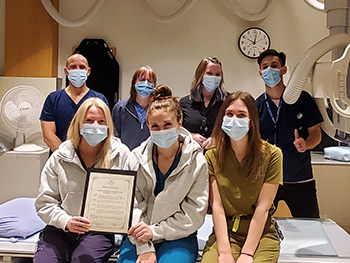 The City of Fort St. John is recognizing the contributions of MRTs by proclaiming November 6-12, 2022, Medical Radiation Technologist Week. On October 11, 2022, Riley Smith, supervisor of nuclear medicine at the Fort St. John Hospital, joined the Mayor and Council members from the city to receive the official proclamation on behalf of CAMRT-BC.
Northern Health has MRTs working in many of our Northern communities, and wishes to celebrate their contributions to patient care, diagnosis, and treatment.
To learn more about the innovative work of MRTs in BC, visit the CAMRT website.