James Haggerstone was a former Regional Manager of Health Information Analysis who loved creating accessible and interesting data structures for employees and the public at large. He was also well known in the community for his generous volunteer work, his gardening, and his support of less fortunate people around the city. James passed away in November 2020, leaving memories of his big heart, compassion, respect, and love. During the months since his passing, his family, friends, and colleagues have worked closely together to create a lasting legacy for James.
A GoFundMe campaign to support three main initiatives to memorialize James started in February 2021, and raised a total of $6,143.20 from NH employees, former employees, community members, friends, and family members. Many thanks to all those who donated in memory of our colleague.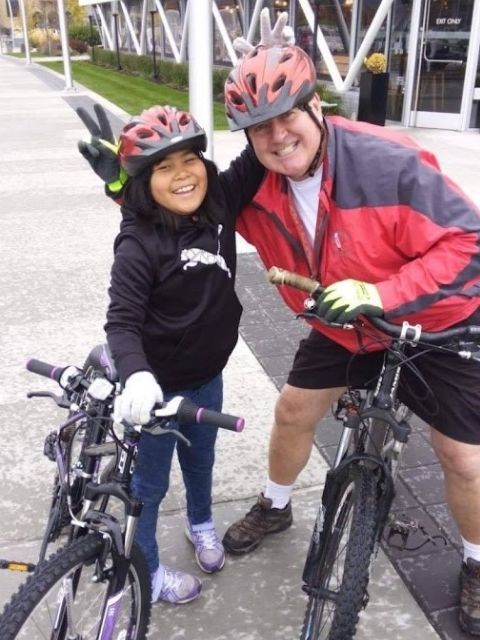 The GoFundMe campaign supported the following three initiatives:
Memorial bench in Cottonwood Park
It's easily accessible from the canoe launch parking lot and walking trails. Everyone is welcome to enjoy the view and spend some time with James. A memorial plaque in James's name is on the bench. Huge thanks to Patty Pasicnyk and the City of Prince George for their dedicated work on the bench and nailing down all the details and logistics.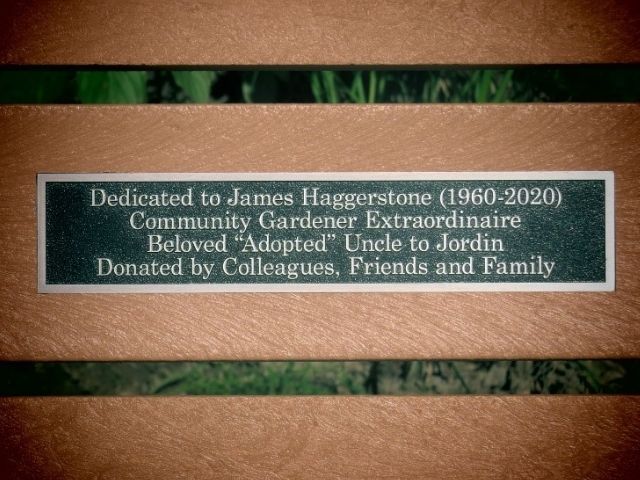 Memory book
Copies of "A Rare and Special Soul: Memories of James Haggerstone" will be sent to James's brother and sister and his beloved "adopted" niece Jordin. Many thanks to everyone who contributed their memories.
Huge thanks as well to Anne Scott and DocumentSource for this amazing piece of art and the hard work which was put into collecting all the stories and photos, and designing and editing the book. A link to the PDF is attached here for you to enjoy and share.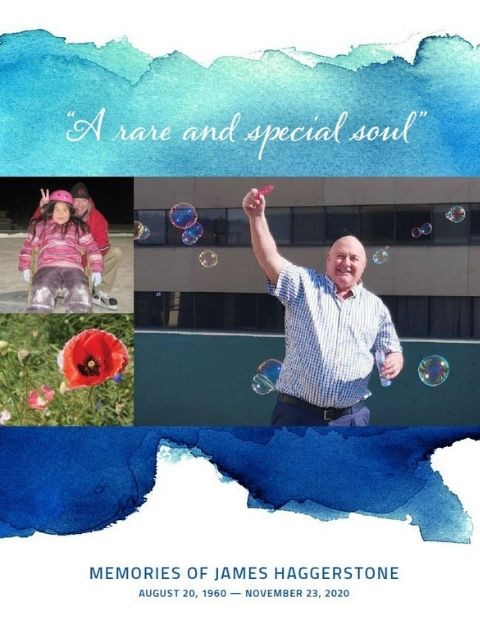 Haggerstone Bursary and Grant
The Haggerstone Bursary and Grant has been established at College of New Caledonia in Prince George. Originally, the GoFundMe portion for this bursary was $3,500, which was to be spent over seven years, using $500 each year. However, with a recent extremely generous donation of $60,000 from James's family ($1,000 for each year of his life), Christine James and Zdenka Masarova are working closely with CNC to create ongoing financial support for future CNC students by establishing a more permanent endowment. As James was a powerful advocate and ally of Indigenous individuals and communities, we have stated that the preference will be for individuals who self-identify as visible minority, Indigenous and people with disabilities. A huge thank you to Christine James for becoming a steward of this initiative and finding the best way possible to create lasting support for students in need.
NeverThirst Donation
The remainder ($265) of the GoFundMe was donated to NeverThirst, a non-profit organization that helps bring clean water to countries worldwide. As a young man, James went to Sri Lanka as part of a Canada World Youth exchange program. There he lived and worked with the local people, building schools among the fields and rice patties. This experience had a lifelong impact.
"By contributing to NeverThirst to help bring clean water to unreached communities in Cambodia, we can help spread James's beautiful soul across the globe," says Zdenka Masarova.
Although James is gone, his impact and legacy will never be forgotten; thank you again to everyone who contributed. Every time we plant a flower, help someone in need, or act according to what James knew and lived – that we are all one family, and are all equally deserving of respect and compassion – James will live on.