On Friday, June 2, delegates from Northern Health, along with community and family members were invited to celebrate the first  graduating class of UNBC's Northern Baccalaureate Nursing Program (NBNP), in Fort St. John 

In total, nine new nurses graduated from the program, and six of them have accepted positions within Northern Health, choosing to stay and work in the Peace region. During the pinning ceremony, five graduates recited the pledge of professionalism, along with all other nurses in attendance.

Pictured in front of the congratulations banner are (L-R) Lexi Falk, Heather McAleney, Lexine Giroux, Ashley Powell and Valentina Lucherini. Unable to be in attendance were Modupeola Nwankwo, and Jena Vezeau. Of note, Valentina Lucherini's parents travelled to Fort St. John from their home in Italy to be here for her graduation.   
Graduate Heather McAleney offered her thoughts on what it means to be part of the inaugural graduating class: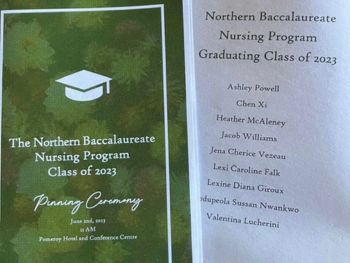 "Being part of the NBNP meant that I could stay local to the Northern Health region. Being based in Fort St. John meant I could experience more rural aspects of healthcare as there were placements as far North as Fort Nelson. Having the opportunity to be part of the first graduating class allowed me to pave the way for future generations of nurses. It allowed me to have a voice in what worked well and what didn't. With the North never having experienced a registered nurse program, it was exciting to be a part of history for our small town. I am proud of where I completed my educational journey, and I am fortunate for the support of Northern Health throughout the entire process. NH regularly reached out to us to see how we were doing, offer us updates on future careers and when the time came, offered us these careers. Finishing school with a position secured meant that I could enjoy my final days of school and not worry about finding a job. I am very excited to begin my career at NH!"  
This program marks a significant milestone in developing healthcare education in our region. It was designed to address the unique needs and challenges faced by healthcare professionals in Northern British Columbia, ensuring that our communities have access to the highest quality of care.  
 
Congratulations to the first graduating class of this ground breaking program! We are excited for bright future it promises for our region! 

To learn more about the NBN program and whether it's a good fit for you, check out: Northern Baccalaureate Nursing | UNBC