The World Health Organization has designated 2020 the International Year of the Nurse and the Midwife.
As part of this year-long celebration, Northern Health will be highlighting a different nurse or midwife each month. For March, we interviewed Janet Francis, a former registered nurse (recently retired). She was born in India and moved to Hazleton for an adventure! Thanks for taking the time to share your story with us, Janet!
Where do you live, and what do you like about it?
I live in Hazelton and it's heaven on earth.
The majestic mountains, the beautiful scenery, the wildlife that roams around our property, the two cultures that occupy the land, and the friendships I have made are all remarkable. The people who live here are an exceptional group. It's been a great place to raise our two children with so many role models.
I'm an avid gardener and grow a great variety of flowers, fruits, and vegetables for my family, with lots left over to give away to the community. I get a lot of enjoyment from gardening and other hobbies.
What brought you to Hazelton?
I came to Hazelton from India when I was 25 years old. I trained as a nurse and midwife in Miraj Medical Centre, Bombay. A girlfriend and I decided we wanted to work somewhere more progressive for women than India, so we applied to various places in North America. We were accepted into three places: New York, Toronto, and Hazelton.
My friend and I made a pact that we would go to one of these places together. She failed the interview for the United States, so that left Toronto and Hazelton as our options.
Wrinch Memorial Hospital in Hazelton was run by the United Church Health Services for over 100 years (Northern Health took over the operations in 2016). I was raised in a Christian family and trained in a Christian College of Nursing, so Hazelton became our first choice to work because the hospital was run by the church.
Also, we did not understand the difference between Toronto and Hazelton, or how remote Hazelton was. We started our journey to Canada on December 7, 1968. We arrived in Vancouver and stayed for a week with a nurse who had worked in Hazelton, who took us shopping for winter clothes. We didn't think it was going to be much colder than Vancouver since it was just an hour and half flight away.
We flew from Vancouver to Terrace, but couldn't land due to weather conditions, so we rerouted to Prince Rupert. After landing there, we had to take a bus to Terrace. Once we were on the bus, it was total darkness all around, such darkness I have never experienced.
We arrived in Terrace at midnight. Those days, I used to dress fashionably. I was wearing a silk sari with 4-6 inches of midriff showing and wearing 4-inch high heels. I stepped off the bus, not aware of the ice on the ground, and slipped and slid quite some ways, kissing the ground. That was my welcome to Terrace. That night we were taken in by the United Church Minister, Reverend Keenleyside, to his home. We stayed awake all night as we felt our blood actually freezing, it was so cold. I was told it was minus 55 with the wind factor.
The next day, we took the Greyhound bus to Hazelton. The drive was breathtaking, it was like driving into heaven. The snow packed on the sides of road, the evergreen trees laden with snow and icicles hanging, and the sun shining. It was magical. I knew I made the right choice, I was excited like a child to play in the snow for the first time.
When I was hired, I promised to stay here 1-5 years. Over fifty years later, and I'm still living in Hazelton.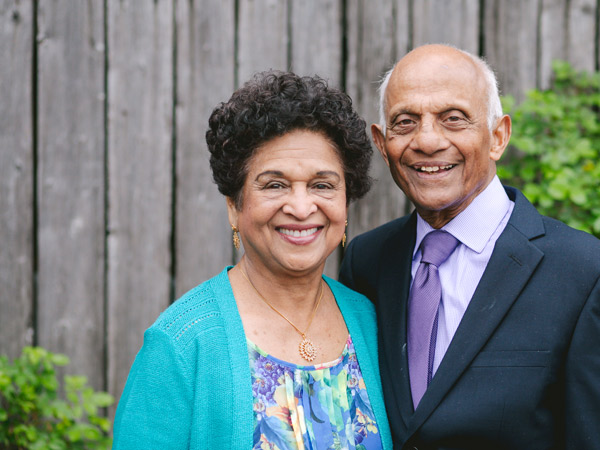 Tell us about your nursing experience and role(s).
Currently, I work as a helper in women's health in the doctor's clinic from time to time.
The day after I arrived in Hazelton, I started as a general duty nurse and worked on the wards of the 50-bed hospital. We worked in all areas: maternity, pediatrics, general duty, etc. I was also asked to work in the operating room as I had special OR training.
After three years, I moved to work with doctors where the emergencies and outpatients were taken care of. We had no x-ray technician, lab technician, or pharmacist. There were four nurses who did all these roles.
Later, I became Nurse in Charge of Outpatient Clinic and Emergency, where I learned more new skills. We did chemotherapy, casts, suturing, pap smears, and the day-to-day patient care. I continued to work in the operating room until I retired. I worked as a registered nurse from December 1968 to February 2019.
What do you like about your role?
Caring and comforting the sick was the most important role for me. Each and every opportunity I had, I handled with utmost respect and care.
I enjoyed delivering babies – the agony and the ecstasy. Nursing a mother through her difficult time and witnessing the joy when baby arrives is an exhilarating and satisfying experience. I enjoyed teaching and sharing my knowledge with my colleagues.
What impact does your role have on patients?
When I arrived in Hazelton 51 years ago, temperature remained below 40 degrees for six weeks. It was quite a shock for me, but I stayed. All those years as a nurse, I'm told, has had a tremendous impact on patients.
I've been so fortunate to serve my community in all these roles, helping to improve the health and well-being of all throughout the years.
What has your nursing background taught you?
It taught me to provide the best possible care, even when you're not sure of the outcome. It taught me to be empathetic and care without prejudice. It's about tenderness, human touch, and connection.
What made you want to go into nursing?
I wanted to go into nursing ever since high school. I graduated at age 16. I was learning typewriting and short hand before I decided which field to choose. The building was located across from the general hospital. I'd watch the nurses come and go, wearing their long, white gowns and hats. They spoke to me. Watching them, they were like angels wandering around, but I didn't really know what I was getting into at that time.
Those days, nursing had a poor reputation [in India], especially if you were from upper middle class family, you didn't go into nursing. I applied without my parents' knowledge. When I was accepted in to the program, they were upset with me and didn't want me to go. I told them I'd made up my mind, so they relented.
I loved being a nurse and making a difference in people's lives from the start.
What is one thing about nurses that you wish you could tell everyone?
Nurses care. They are competent, responsible, accountable, and up to date. They have a specialized body of knowledge and follow their Code of Ethics, which they use to provide the best possible health care in collaboration with other health professionals in the public interest.
What drew you to Northern Health?
When the United Church Health Services changed over to Northern Health, the change was seamless. I was happy to join their team. I must recognize and thank Dr. Whiting, Dr. Muir, Dr. Newbery, Dr. Don Watt, Norah Gines, and many nurses and other health professionals who were my mentors during my years at Wrinch Memorial Hospital. I was blessed and fortunate to work and learn from many extraordinary colleagues. Their support was integral to my years of service.
I feel Northern Health is carrying on a great job in the Hazeltons and I'm glad to be part of the team in a small way. I hope the care and legacy will continue for years to come and the population will be served with great health care – including myself.