First Nations, Inuit, and Métis communities, organizations, and health centres can apply for up to $5,000 in funding to support community-based initiatives that focus on holistic health and wellness! Apply today – the deadline is December 6, 2019!
Who's eligible for funding?
Applicants must be:
Located within Northern BC (the NH region and the FNHA Northern Region)
An Indigenous community organization or health centre, or a First Nations Band
Your project must support a community project and focus on one or more of the following:
cultural safety
primary care
mental wellness and substance use
population and public health: community wellness activities for Indigenous youth and Elders
Preferred projects will:
Encourage different groups to work together towards a common goal. Groups might include:

Community members (youth, families, Elders, etc.)
Health staff (Band, NH, FNHA)
Physicians
Aboriginal/Indigenous Health Improvement Committees (A/IHICs)
Other communities

Support health and well-being by combining Indigenous wellness approaches with current health care approaches.
Build healthy relationships and improve how people connect with each other, their families, and their community (e.g., community holiday gatherings).
Build capacity in and train local First Nations and Indigenous staff and community members.
About the Wellness Funding Awards
Since 2015, Northern Health (NH) and First Nation's Health Authority (FNHA) have collaborated to offer Northern Indigenous Community Wellness Funding Awards.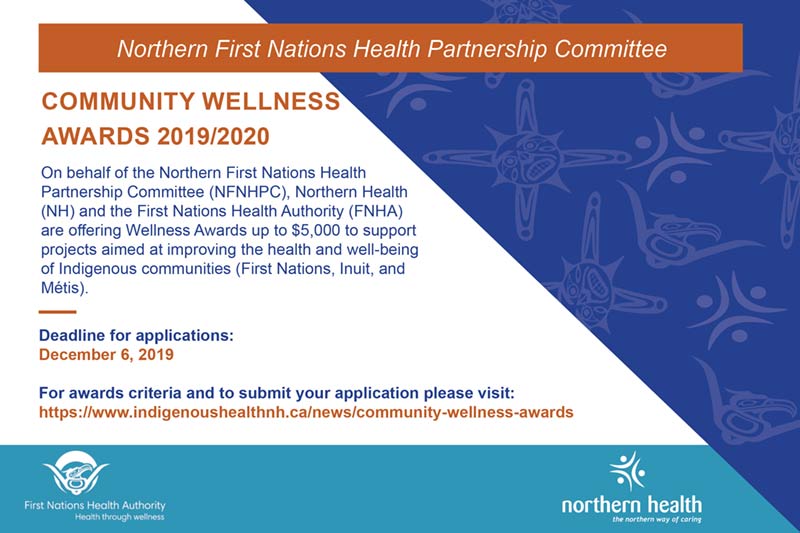 For more information
For more information or to submit completed applications, please contact us by one of the following:
More materials