(Note: a version of this story originally appeared in Canadian Healthcare Technology)
When a pandemic strikes, health care organizations need to react quickly. As a result, sometimes remarkable things can be accomplished, exceeding everyone's expectations. 
In March 2020, the combined efforts of many Northern Health staff helped create and successfully launch the Northern Health COVID-19 Online Clinic & Information Line in only two days. This support service has been crucial in helping Northerners during the COVID-19 pandemic.
"We were definitely building a plane in flight," says Dori Pears, regional manager, Primary and Community Care and one of the leads in developing the clinic.
In early March, as BC began to shape the province's response to COVID-19, Northern Health's Executive tasked a small team to create a virtual help centre and online clinic. The service would provide information, health advice, and an online clinic to help reduce the transmission of COVID-19 and decrease the demand on emergency rooms and other health services.
For two days, Northern Health information technology and clinical teams "locked down" in an intensive process to plan and implement the new clinic.
The first challenge involved finding an adequate space. Northern Health's Information Technology (IT) space, where over 200 staff work, was chosen. Due to the efforts of Jeff Hunter, chief information officer, all the staff who'd been working there were sent home in a matter of hours to start working remotely. 
"I was absolutely amazed at how quickly information technology staff vacated their building, so that we could start setting up the new clinic there," said Dori.
A small team stayed behind to install the equipment needed. At go-live, 26 complete workstations were set up with monitors, peripherals, telephones, and headsets. As the weeks went on and the call volume increased, new workstations were added.
The team also installed software to track wait times, call lengths, peak times, and call volume. The software chosen, Tableau, also provided heat mapping to determine peak hours, which helped inform ongoing staffing and process changes.
"From an IT equipment perspective, the amount of effort by IT staff to move the virtual clinic from concept to production was immense," says Joan Vanderlee, regional manager, acute care solutions, Information & Technology Services.
With the infrastructure in place, they needed staff to maintain the line, which initially operated 24/7. David Williams, VP of Human Resources, and his team were quick to respond with a call out for staff willing to be redeployed. 
"There were many who stepped outside of their normal roles to ensure that we had success," says Vanessa Kinch, regional manager, Clinical Informatics. "No one said, 'this is not my job.'"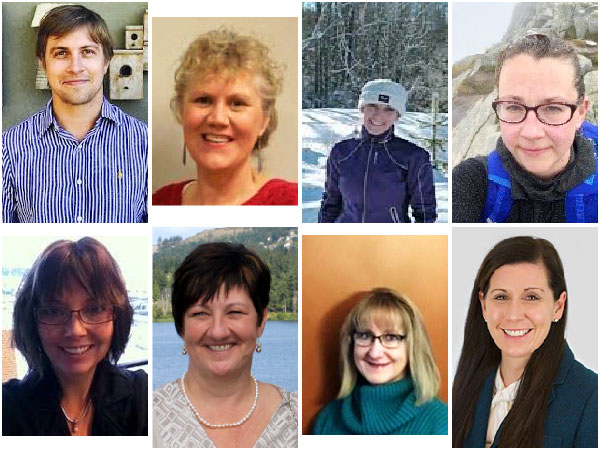 The pool of staff grew up to 250 strong, which also included fourth-year nursing students and medical residents who volunteered to help in this time of need.
"A lot of staff were providing frontline care to the people we serve for the first time," says Dori.
To ensure that consistent language and information was going out to callers, scripts were developed according to BCCDC guidelines. This was extremely important, as the information was changing daily. Population and Public Health leadership also played a large role in providing up-to-date information and escalation procedures.                                                                                    
"The first week was absolutely crazy," says Dr. Furstenburg, Northern Interior Rural Medical Director, and one of the leads of the project. "I couldn't have asked for a better team to support this. Everyone did a vital role in very short order."
To keep everyone safe and healthy, strict daily cleaning protocols were put in place to ensure everything was sanitized for each call centre shift.
The Northern Health COVID-19 Online Clinic & Information Line provides three tiers of support:
Tier 1: Screens calls and provides information. Transfers medical questions to Tier 2.
Tier 2: Nurses provide needs assessments. Patients with COVID-19-related symptoms or other complex medical issues are transferred to Tier 3.
Tier 3: Physicians and Nurse Practitioners provide immediate help and advice.
Before launch on March 14, practice calls and tests were conducted to ensure everything was in working order. As a precaution, the team assigned an information technology expert to each tier to help provide on-the-spot technical support.
On March 14, the service opened with a soft launch. Initially only seeing a few calls, the next day they opened it up to all Northern communities, receiving over 800 calls. On March 16, only their second full day of operation, the number of calls went up to 900.
At the start of the pandemic, people and families from across the region were experiencing tremendous anxiety.
"People simply needed information," says Kelly Gunn, VP Primary and Community Care and Clinical Programs.
As an example of this need, in its first week alone, the clinic received over 4,430 calls, with over 70 per cent seeking information about COVID-19.
Staff were working round the clock to keep up. At the same time they were doing their best to balance training new staff, managing evolving technical requirements, and updating provincial messaging, especially around physical distancing. All of this required them to adjust their practices to ensure they met those guidelines.
"There were changes every day," says Dori.
This initially put a strain on the service's response time, which started at thirty minutes.  Thanks to improved processes and trained staff in place, after two weeks they were able to reduce that time to only six minutes.
Despite these obstacles, everyone came together and rose to the occasion. In some cases, staff members were working twenty hours a day. 
"It was great to provide the wraparound support until we figured out what we needed," says Kara Hunter, Lead, Nurse Practitioners.
Since its initial days, the Northern Health COVID-19 Online Clinic & Information Line has evolved to add other functions, including helping BC Housing and the First Nations Health Authority with vulnerable populations, providing information on mental health and substance use, and helping local businesses through the Health Protection Central line. 
Now that communities are more informed and prepared around COVID-19, and call numbers are dropping, the service's hours of operation have been slightly reduced.
Although the Northern Health COVID-19 Online Clinic & Information Line is still available to support all Northern communities, the public is now encouraged to reach out to their primary care providers first.
As of May 4, 2020, the call line had received more than 11,300 calls over seven weeks of operation.