Richelle Cooper counts herself as one of the lucky ones. In April 2015, she was riding the Peace Region's energy boom doing logistical work in one of the industry's camps when prices began to plummet and she was laid off.
How is that lucky for Richelle? Thanks to Richelle's prior training as a Licensed Practical Nurse (LPN) from Northern Lights College, she was able to take her career back to the public sector where she's finding fulfillment in her work, rediscovering the value of being part of a team, and establishing a sense of professional security in spite of the economic downturn.
Born and raised in Dawson Creek, Richelle was inspired to enter health care by her grandmother who worked as a care aide at Rotary Manor.
Given her recent transition, Richelle took some time to speak with me about the differences she has experienced between the private sector and the public sector and how this change has affected her life so far.
Richelle, what was "camp life" like?
For me, the routine and experience became a bit mind numbing. After work, I would just go back to my camp, eat, sleep, and then go back again the next day. I didn't have family around and I was the only woman in my camp, which meant I had to toughen up. One nice thing was that I didn't have to cook or clean out there.
And how is your life different now?
The biggest difference I've noticed is the pride and appreciation I feel from colleagues and patients when I go to work. While working in the camp, my experience was that people only cared if my job was done, they didn't necessarily appreciate how well it was done.
Also, now that I live full time in Dawson Creek, I have a great deal of closeness with my friends and family. It was hard to maintain relationships when I was out of town for two weeks at a time.
Do you have more work-life balance?
I do for sure! I have found eight hour shifts to be easier to manage. I now find that I have lots of time left in my day. I coach hockey, go snowboarding, and can do lots of other activities that I couldn't do when I was living in camps.
Did you have a moment when you knew that going to the public sector was the right move for you?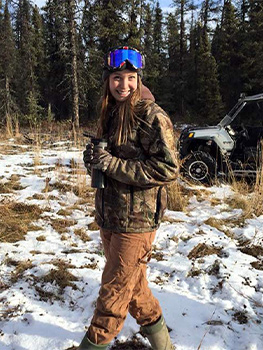 Actually, I had that moment just before I ended up getting laid off. I knew that I wasn't as happy as I could be in that position, and I felt like there were no opportunities for me to advance in my career there. I need goals; while camp life didn't offer that for me, my nursing career did! As I was thinking these things, it was a great comfort knowing that I could return to my previous nursing career.
I always knew in my heart that I would come back to nursing. I knew it deep down. It's part of who I am.
Tell us about the team at Rotary Manor. How does working on that team differ from the team you worked with in the camps?
Our team is awesome! I feel like everybody is on the same page, and if we are not, the discussions are really helpful. Everyone really wants to be there. I find that really refreshing after some of my experiences in the work camps. There, I often got the feeling that we were just there to do a job and get paid. People rarely went the extra step to improve things; they mostly just did what was required with no extra effort. I live by the quote "if it's good enough, it's hardly ever good and hardly ever enough!" I feel like I can live by that quote at Rotary Manor and as a nurse!
What advice would you have for anyone looking to get into health care? What would you tell someone who's thinking about making the jump from the private sector to the public sector?
I would definitely tell them to do as much research as they can and to not be afraid of doing something new – you might like it! Also, while you might find that there is a difference in wages between the public sector and working camp jobs like I did in the oil patch, my return to nursing also brought with it job security and membership in a union that provides me with a number of supports and opportunities.
If you are interested in pursuing a career in health care, Northern Lights College offers Health Care Assistant and Practical Nursing programs.
Start your career with Northern Health at careers.northernhealth.ca.