Planning dinners for the week
It's Nutrition Month and this year, we're Taking a 100 Meal Journey. It's all about making small changes and sticking with them one meal at a time.
Maybe you've decided to eat more vegetables, make a weekly meal plan, or cook from scratch more often. Well, I've got a great way to help you stay on track for all 3 of those healthy eating goals! When I plan dinners for the week, I like to designate one night as "Make Your Own Take-Out" night.
We all have our own favourite take-out options – it could be burgers, tacos, pizza, or fish n' chips. But, let's face it, these aren't always the most nutritious choices we can make. Take-out foods are often higher in salt and fat, are made with refined grain products, and tend to be sparse on the vegetables. Sure, they are convenient, especially on busy weeknights. And as a once-in-a-while treat, they aren't so bad. But when take-out dinners become a regular habit, they can impact not only our health, but also take a toll on our wallets.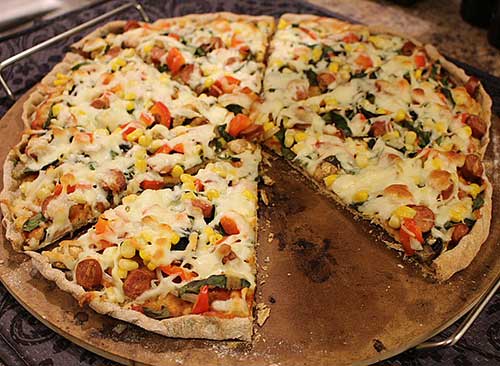 Instead of swearing off your favourite take-out foods, why not try making some of them at home? That way, you can control the ingredients and portion sizes, and save a little money while you're at it. Pizza is one of my favourite "Make Your Own Take-Out" meals to make. Give it a try! It's a great way to increase your whole grain and vegetable intake. You can keep it traditional or get creative with your vegetable toppings – use up whatever you have on hand. We've discovered that corn, cabbage, and even sweet potato make tasty toppings! Bonus: it's also a fun meal to make with the family! Try making mini pizzas and letting everyone choose their own toppings.
Below is my go-to pizza dough recipe. It's super easy to make, incorporates whole grain flour, and you can make it ahead of time. Keep a batch in the freezer and you'll have dough ready for a quick weeknight meal.
Big-Batch Whole Wheat Pizza Dough
Recipe adapted from Dietitians of Canada
Makes enough for two 12-15 inch (30-38 cm) pizza crusts
Ingredients:
2 packages (7 g each) active dry yeast
2 cups whole wheat flour
1 cup all-purpose flour
½ tsp salt
½ tsp granulated sugar
1½ cups lukewarm water
½ tsp olive oil
Instructions:
In the bowl of a stand mixer, combine yeast, whole wheat flour, all-purpose flour, salt, and sugar. Attach dough hook and mixer bowl to mixer. With mixer running on low speed, gradually add water; knead until dough is smooth and elastic, about 10 minutes. (You can also knead the dough by hand, or even use a food processor)
Turn off mixer, and pour oil down side of bowl. Set to low speed for 15 seconds to coat inside of bowl and cover dough lightly with oil. Remove mixer bowl and cover loosely with plastic wrap.
Let rise in a warm, draft-free place until doubled in size, about 2 hours.
Punch down dough and cut in half to make two balls. Place each ball in an airtight freezer bag and freeze for up to 3 months, or roll out for immediate usage.
To roll out, place dough ball on a floured work surface and form into a circle. Roll out until dough reaches 12 to 15 inches (30 to 38 cm) diameter.
Tip: Try adding dried or fresh herbs to the pizza dough to give it even more pizzazz! Basil, parsley, oregano, and rosemary are all great options!
Once you've topped your pizza, bake in the oven at 400 C for 15 minutes for the perfect at-home pizza.