Celebrating Care Aide Assistants day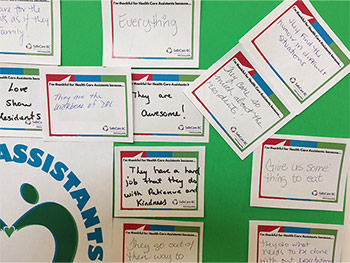 Care Aides at Dunrovin are at the heart of the services we provide to our residents every day. Whether they're helping with meals or aids to daily living, or providing social interaction and emotional support, Care Aides build close relationships with those they serve. To celebrate this, Dunrovin asked for words of encouragement to be displayed on a poster board and shared with co-workers, residents, families and visitors. We also showed our appreciation with food! Each unit got sandwiches and goodies delivered and the BCGEU supplied a wonderful cake in the staff room.
Thank you
The leadership team at Dunrovin would like to publicly thank all the Care Aides for the work they do every day, and for the person and family-centered commitment they show to our residents and families.