I have to admit, the last few weekends have been busy. Between laying flooring, hanging a door, and cutting/installing/painting trim and baseboard, there's been little time for anything else. Well, not much other than multiple trips to the hardware store and re-hanging the door because the walls aren't straight and I wasn't happy the first time around!
But now that I'm finished renovating, I can turn my attention to more important things. It's time to go fishing!
Now, I'm not talking about fishing from a boat or sitting in a lawn chair beside the Skeena River with your rod in a rod holder. I'm talking about putting on the neoprene waders and getting out fly-fishing.
Have you ever tried it?
In addition to being fun, fly-fishing has some real health benefits.
Fly-fishing is a great way to get some exercise, as you need to move around to do it. As well, there's the resistance provided by walking in water and weight from wearing a vest filled with gear. Fly-fishing is low impact and provides exercise for your upper body as well as your lower body. Try spending a day fly casting and wading through a stream. I guarantee you'll feel it at the end of the day!
Fly-fishing is a great way to challenge yourself mentally. It takes skill and knowledge to read a stream and find those elusive fish. There's also a bit of practice needed when it comes to casting a fly rod. But don't be discouraged! The basics can be learned quickly and after a bit of instruction, you can be out there casting away. To be honest, fly-fishing can be as simple or complicated as you want to make it.
Many fly-fishermen also tie their own flies. My stepfather, who was a great fly-fisherman, tied his own flies and built custom fly rods. He even sold enough flies to buy a camper for his truck! If you enjoy being creative, fly-fishing provides many ways to express that creativity. But be warned, it takes a lot of flies to pay for a camper!
Fly-fishing is also a great way to reduce the stress in your life. It takes you back to nature and helps you focus on the moment. It can also provide a chance to socialize with other anglers. That said, if solitude is what you prefer, being alone on a beautiful stream is a great place to be.
I'm sure you've heard that eating fish can be part of a healthy diet, too, as fish are a good source of Omega-3 fats. Why can't that source be a freshly caught trout or salmon?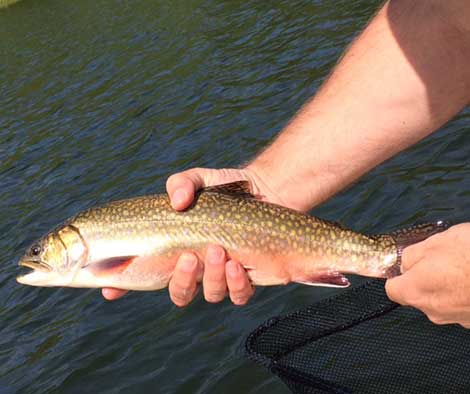 Now that you're itching to go fishing, here are a few things to remember:
Always check the regulations and make sure you have the appropriate licences.
Make sure you're prepared for the weather.
Let someone know where you're going.
Take the appropriate precautions in bear country.
Northern British Columbia has some great opportunities to catch a variety of fish. Why not give fly-fishing a try? After all, what's the worst that can happen, other than getting hooked?
Just don't expect me to tell you where my sweet spots are!