I'm so excited to be able to share yet another set of stories from every corner of Northern BC! If you want even more ideas for healthy aging, don't miss the Week one and Week two summaries!
How do you invest in your body, mind, and relationships? 
In Chetwynd, Clay's commitment to healthy living is inspiring his daughter - a new aspiring runner!
I've been into running half marathons lately. I was going to be in Vancouver the first week in February and saw that there was the Hypothermic Half on February 6, which was my birthday. I couldn't think of a better way to spend my birthday! My daughter was so proud of me and wants to become a runner. About 200 metres before the finish line, she jumped out and finished the race with me. The six weeks of training was worth it. I beat my target time by four minutes. Looking forward to the next one in May!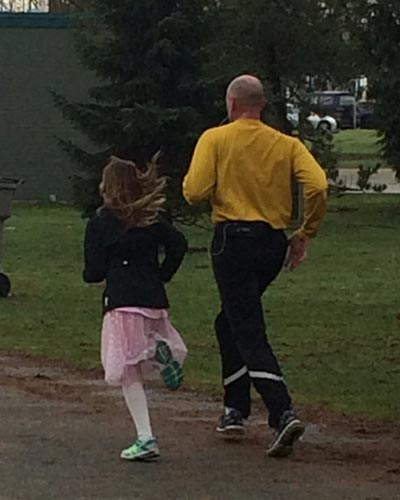 Tammy in Quesnel has found ways to stay active around her kids' busy sport schedules!
Being a mom of two teenagers, it is very hard to have a schedule of my own, between working and driving the kids to their sporting events. Like any mom with active kids, I feel like a taxi driver going to soccer, volleyball, softball, hockey practices or games. In order to keep up with the kids and get in some exercise time of my own, I will go for a short walk at the beginning of their practices or games. That way, I can still watch them (because they always look to make sure Mom is watching!)
Remember all of the pets that promoted healthy aging in week one? Ginger is a high-energy dog who has helped Emily in Quesnel invest in her health!
My husband and I adopted our high energy dog Ginger in 2012. Ginger requires a lot of exercise and mental stimulation on a daily basis. She gets excited to go for walks, hikes and snowshoeing and to just be included with the family. When Ginger is happy, we are happy. It is amazing what fresh air and a healthy dose of exercise can do for your mind and relationship!
A circuit class in Smithers has paid dividends for Helena's health!
Every Tuesday and Thursday evening, we go to Aileen's circuit class at Lake Kathlyn School! It's great to work out with an awesome bunch women. I was first invited to attend in November and loved it! We have a group that attends and it's fun to work out together!
Gretchen in Quesnel has seen a local running group benefit her mind, body, and relationships!
Two years ago, I signed up for a walk/run group at a local running store (Reason2Run). I am now running 25 km trail races. Although it is not a team sport, I have met a great group of people of all ages that create the team spirit with every run. Some of the side effects of this adventure have been a healthy heart, happy spirit, fresh air to cleanse my mind [...] At 53 years old, I feel better than I ever have.
For Chris in Fort St. John, healthy aging boils down to three components of walking outside!
Getting vitamin D, holding hands and experiencing the everyday.
Deanne in Quesnel is testing the waters with a few different activities! What would you suggest she try next?
I am working on trying to eat healthier by having the fridge stocked with healthy snacks and veggies and eating out less often. I struggle with getting out for exercise but am making a concerted effort to get out and experience as many different activities as I can in the hopes that something will become a passion. I have recently tried cross-country skiing and snowmobiling, which were a lot of fun.
Also in Quesnel, Beverly has come up with amazingly creative ways to stay active without much impact!
I am not a candidate for extreme anything! I have an artificial knee, complex scoliosis, and arthritis, so mild to moderate activity with no impact is more my bag. This morning for instance, I did five modified push-ups on the edge of my tub before I showered; jumped onto my little stepper that I have on my sundeck for five minutes while my puppy went to do his business in the yard; and then while I was pumping gas, I did as many step-ups onto the fuel pump island as I could while my tank filled!
In Atlin, a new hobby has taken Carol off of the couch and around the world!
In 2012, a friend and I were in our early 60s and decided to stop being bookworm couch potatoes. My friend discovered geocaching and we took to it immediately. Getting lost in the bush was almost as much fun as succeeding at finding geocaches! We found ourselves walking, hiking, scrambling up cliffs and under bridges, and learned to use a GPS. We just had to spread this fun to others and gave introductory workshops to participants from 11 to 81 years of age. It's taken us to five countries so far!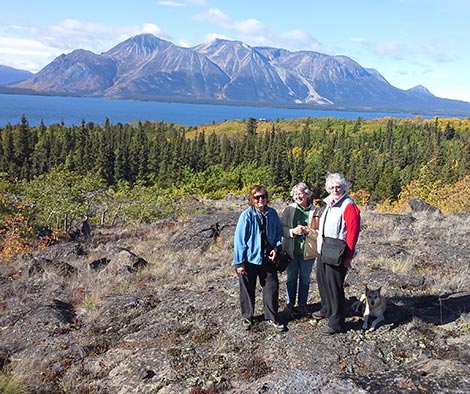 In Prince George, life is a slice for Hilda!
I go by the saying "life is a slice." I have a slice of everything I enjoy every day. I keep an open agenda and have a bit of several enjoyable activities each day. Beginning with morning tea/coffee and catching up on Facebook with friends, a walk, a book, time with grandchildren, healthy cooking. Every day is a pie divided into appropriate slices and savoured all day long. At the end of the day, I enjoy a good night's sleep and then it starts all over again :)
A move from Prince George to Haida Gwaii has resulted in new opportunities for investment for Ann!
I have recently made a huge investment in my body, mind and relationships. I have retired and moved from Prince George to Haida Gwaii. Here, I am learning to listen to myself and becoming calmer. I am recharging myself by doing things I love: being outside, creating with my hands, and best of all enjoying a huge eclectic community of caring, thoughtful and compassionate people.
I want to keep sharing stories but there's just not enough room! Thank you everyone for sharing your healthy living ideas so far! Your investments in healthy aging are creative, inspiring, and powerful!