Did you know that if you're 60 or older, you can ride the Northern Health Connections bus at the same low price medical travellers pay – with no need to have a medical reason for your trip?
Take the Northern Health Connections Bus 
The purpose of the Connections bus program is to give Northerners who have medical appointments in other cities an affordable way to travel. It's also for Northerners who were taken to another city for treatment (e.g., by air or by ambulance), who need a way to get home. (See full details here: Eligibility: Who can use Northern Health Connections?) There's a whole system of routes throughout the North, as well as down to Vancouver and Kamloops.
The Connections bus also lets seniors travel at the same low rates. I'm 61 and I recently rode the bus from Prince George to Vancouver to visit my son, for only $20 each way. It was safe, clean, relaxing — and fun! (Similar low rates apply across the North).
I pre-booked my trip by calling 1-888-647-4997 (everyone has to do this – no walk-ons are allowed). The bus leaves from the parking lot of the University Hospital of Northern BC in Prince George, near the main entrance. When I arrived for the 8 am departure, driver Arlene Christensen was there to welcome us and help everyone board, even making the bus "kneel" to help passengers with mobility problems climb the steps.
"I really enjoy this job," says Arlene, who has years of experience as a driver, as well as teaching professional driving for 14 years. "I like the people. I especially enjoy seeing my regular passengers."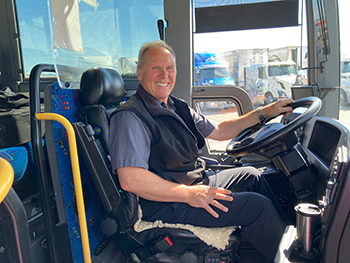 Both drivers I encountered during my round trip were extremely friendly and helpful. Jeff Waters, who drove on the way back, has decades of experience as a driver and driving teacher.
"It's an awesome job!" he said. "I like the people and the variety; I like dealing with the clientele. My dad was a Greyhound driver, so it's in the blood."
A comfortable, convenient, and affordable way to travel
Our bus was a large intercity coach with an onboard washroom, comfortable plush seats, and charging ports at each seat. (The Connections program also uses minibuses on some of its shorter routes).
The bus stops only at certain locations, and only passengers who have pre-booked their seats can board — there's no picking up random people from the side of the highway. COVID precautions include daily deep cleaning, plastic dividers separating the seats, and physically distancing the passengers by blocking off rows of seats.
I spoke to retired lab technician Sharon MacDonald, who was going from Quesnel to Chilliwack to visit one of her sons.
"People ask me why I would take the bus when I have a car," she says, "but I couldn't get from Quesnel to Williams Lake on $20! Plus, it's a Northern Health bus, so you know it's super clean. There are plugins for your electronics, the drivers are so friendly, and it's never very crowded. Only prepaid people can ride, so you feel very safe."
First-time passenger Kamala Bains, also travelling as a senior to visit family, agreed: "I like the bus," she said. "It's fun!"
In fact, all the seniors I spoke to on the bus had their own vehicles but chose to take the bus instead because it's more relaxing and affordable. We agreed that we like leaving the long-distance driving to the professionals! On the way down, I napped, read, and just plain daydreamed. When we arrived in Vancouver, I was rested and full of energy – and so glad I didn't have to deal with Vancouver traffic or parking.
The trip between Prince George and Vancouver takes 11½ hours, but this includes two 15-minute stops for coffee, and a one-hour lunch break at Cache Creek. The break at Cache Creek is at the Husky Travel Centre, which has a restaurant, convenience store, and large, clean washrooms. Plus, other restaurants in Cache Creek are just a short walk away – it's a great way to stretch your legs.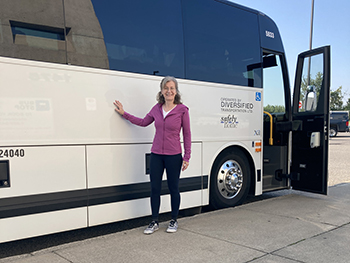 (Speaking of washrooms, the bus features a large, spotlessly clean wheelchair-accessible washroom that you can use anytime, even while the bus is moving – a great convenience!)
If you're travelling for a medical reason, you'll get priority when booking, and the bus is fully set up to make you feel safe and comfortable: there's an emergency call button in the bathroom, the bus can be reconfigured to accommodate a wheelchair, and you can bring a companion with you. As well, each Connections bus carries a small stool for those who've had hip or knee surgery and need to keep a leg elevated.
All passengers on the big coaches, whether travelling for a medical reason or not, can bring two large pieces of luggage under the bus, weighing up to 50 pounds each, plus a small carry-on bag at their seat. (Minibus passengers can only bring a carry-on).
When you compare travelling on the Connections bus to flying, there's no contest: it's cheaper, your luggage arrives when you do, and the bus always leaves on time.
Pro tips for riding the bus:
Bring water and snacks.
Bring anything you need to help you nap, such as a small neck pillow, blanket, or eye mask.
Bring charging cables for your electronic devices.
You're welcome to wear a mask if you want to, but it's not required.
Download your playlist before you leave. There's currently no Wi-Fi on the bus – there was during the first year of bus operation, but that special arrangement has now expired.
And the most important tip of all: In the washroom, the black button is the flush button. The red button is the emergency call button. Don't mix them up!
I'm already looking forward to my next Connections trip!
Have you taken a trip on the Connections bus? What did you think? Let us know in the comments.