This summer, my two-year-old son excitedly watched the raspberry bush in our backyard grow as he waited for the berries to turn red. When he tasted our first raspberry, his eyes widened, he jumped up and down, and couldn't wait to have another! Watching him, I felt a sense of satisfaction, pride, and joy because he's getting to experience growing and harvesting his own food right in his backyard. Do you know the feeling I'm talking about? The feeling of picking that first berry of the season and enjoying its sweet and tangy taste?
Now, imagine losing that feeling – not being able to take the fresh raspberries from the bush you've harvested for years, not being able to enjoy the crisp texture of a freshly picked carrot, or not feeling the satisfaction and joy of growing food for your family.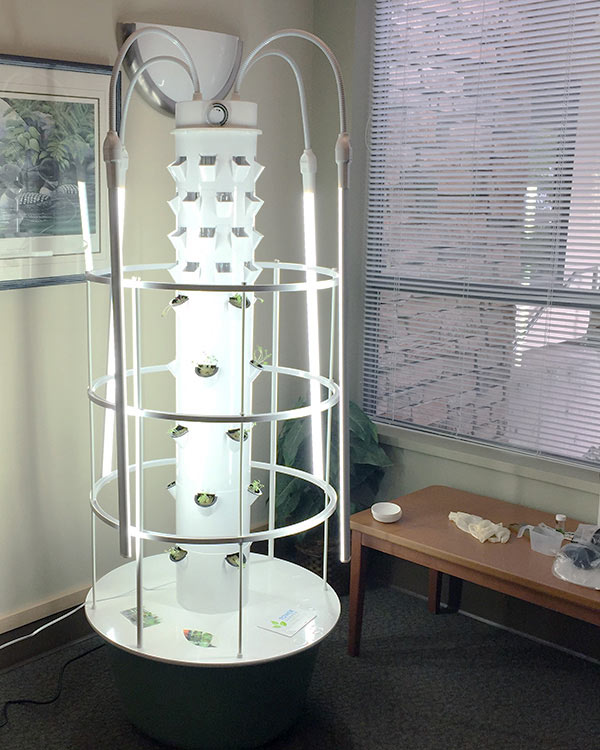 The hydroponics tower turns "growing season" into a year-round event.
Many residents living in long-term care don't get to experience these feelings anymore, and may not be able to participate in activities they used to love and found meaning in, like gardening. Backyard gardening or living on a rural agricultural property in Northern BC, and the experience of gardening and growing food for sustenance and pleasure, is a meaningful activity that some people greatly miss. Losing this connection to nature can affect their mental wellbeing. As a dietitian who loves the connection to food, this breaks my heart. At Gateway Lodge (Gateway) in Prince George, we're helping create an environment where residents can experience growing, preparing, and eating homegrown fruit and vegetables again.
A team of people from the University of Northern BC (UNBC), BC Cancer, and Northern Health received a seed grant to grow vegetables and other edible produce in raised garden beds and a hydroponics tower at Gateway. With the help of residents, our team co-designed a gardening program that includes a shared gardening space between staff and residents, gardening time, and meaningful food and nutrition activities that support the nutritional and mental wellness of residents.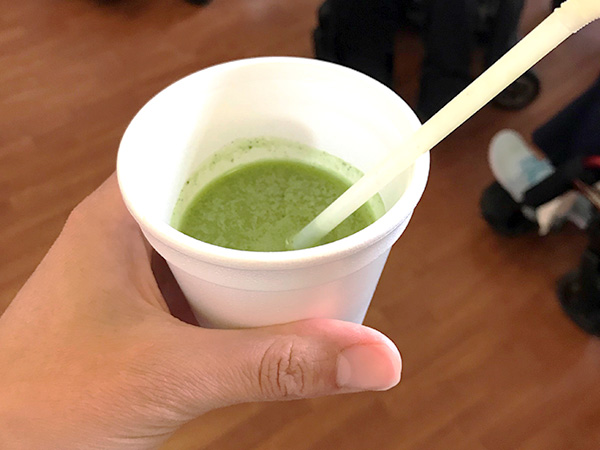 A green smoothie, made from veggies from Gateway's garden and sweetened with store-bought fruit, was a favourite of residents!
One activity that residents loved was making green smoothies from our harvest. We created delicious smoothies with greens from our gardens and added store-bought fruit to sweeten them up and make a vibrant, refreshing green drink.
Residents' favourite recipe was a combination of greens (kale, Swiss chard, lettuce, spinach), banana, pineapple, vanilla almond milk, and ground flax seed – yum!
I'm thrilled with the opportunity to engage residents in meaningful and nourishing activities through gardening, and we hope to build on the success of 2019 for our next growing year!