Camping season is here!
With thousands of lakes in our own northern backyard, it's a quick trek out to the wilderness to get away from the daily grind. Pack your tent, sleeping bags, bug spray, and … hot dogs? No way!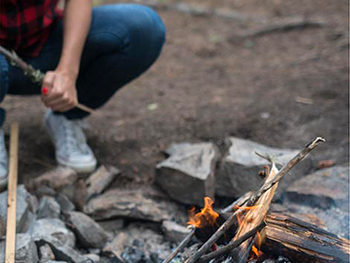 Meals like mac and cheese, hot dogs, or pork and beans are "classic" camping foods, but there are a ton of other tantalizing meals you can make in the backcountry using a camping stove, BBQ, or fire that will nourish you while you relax your body and mind in nature.
For most campers, camping activities typically revolve around food. For my husband and I, it's important to make healthy choices throughout the trip but still enjoy nostalgic camping foods. Here is a typical camping day for us, filled with food that keeps us energized to enjoy the wilderness:
Wake up bright and early to a hot cup of percolated coffee made by my husband. Then, off we go on the boat to fish for a few hours.
Come back to camp for a big breakfast complete with eggs, hash browns, my hubby's homemade bacon, wholegrain toast, and fruit.
Head out for a hike or go back on the lake with some homemade trail mix, fruit, and veggie sticks.
Relax in the sunshine with a quick tuna sandwich and maybe a soup if it's chilly.
Enjoy dinner, which is always the star of the show! One night is almost always a steak, grilled potato pouches, homemade fresh focaccia, and veggie skewers or grilled Caesar salad.
Wind down around the fire with a campfire dessert like bannock, banana boats, or everyone's favourite: s'mores.
Meal planning when camping
Because camping truly revolves around meals and snacks, one of my favourite parts about camping is meal planning and finding creative ways to enjoy vegetables so we can continue to eat well while away from home. I try to prep the meals as much as possible at home so cooking a meal in nature is still stress-free, so I always make sure to cut-up vegetables for skewers and snacking and make any sauces ahead of time.
Here is one of my favourite veggie sides that doesn't require a knife and fork to eat - perfect for camping! I served it with spicy beer can chicken and roasted potatoes, which makes a great camping meal.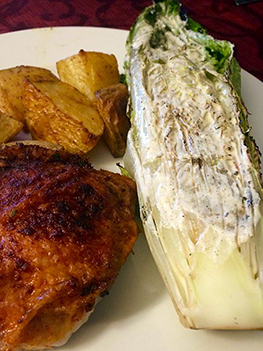 Grilled Caesar Salad
Serves 4
Ingredients:
2 romaine hearts, cut in half length-wise with the core intact
½ cup plain yogurt
1 tsp olive oil
¼ tsp Dijon mustard
A few dashes Worcestershire sauce
½ lemon, juiced
6-10 capers
1 garlic clove
2 tbsp Parmesan cheese
Salt and pepper, to taste
Instructions;
In a blender or food processor, blend all ingredients except lettuce until smooth. When camping, do this part at home and keep it in a small container in the cooler.
On medium heat or on the campfire grill, place romaine hearts cut-side down onto the grill. Grill until there are char marks and the lettuce is slightly wilting.
Brush the dressing onto the cut side of the grilled romaine heart and enjoy!
What's your favourite camping meal or favourite way to make veggies for the outdoors?