Enjoying BC-grown produce
I'm always amazed at the selection of local fruits and vegetables in our grocery stores, farmers' markets, and gardens throughout the summer months!
Enjoying BC-grown produce is a great way to add variety and brighten up your plate with vibrant colours and fresh flavours. It can also be fun to explore some not-so-familiar (yet equally delicious) local produce. One way that I've been able to put more local foods on my plate is by joining a Community Supported Agriculture (CSA) program in Terrace. This program allows community members to purchase a "share" of local produce from farmers before they plant their crops. Despite having a shorter growing season in Northern BC, last week's share included potatoes, strawberries, lettuce, mint tea, homemade pear jam, and a bag of lamb's quarters* (*keep reading!).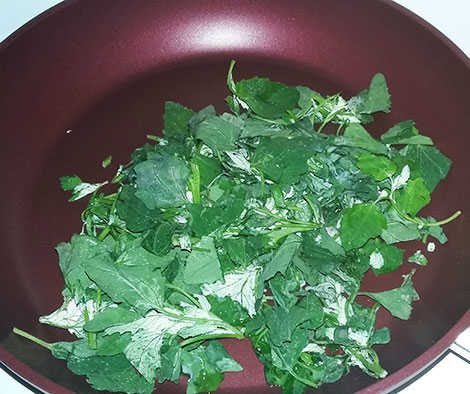 I had quite the chuckle when I discovered that "lamb's quarters" was in fact a vegetable – it's a bag of mysterious dark leafy greens! According to my online search, lamb's quarters is also known as goosefoot or wild spinach. It tastes similar to spinach, and can be enjoyed raw, steamed, or sautéed.
One of my favourite ways to eat spinach is as a creamy dip, so I decided to substitute lamb's quarters in my signature spinach dip recipe. If you don't have lamb's quarters, no worries!  You can simply use fresh, frozen, or canned spinach. 
(Wild) Spinach Dip
Ingredients:
4 cups of spinach or lamb's quarters, washed
1/3 cup mayonnaise
1/3 cup of yogurt, plain
1 tsp of garlic powder or 1 clove crushed garlic
1 tsp Worchestershire sauce
Salt and pepper to taste
¼ cup parmesan or mozzarella cheese, grated (optional)
Instructions:
Heat a large skillet over medium heat. Add the washed lamb's quarters or spinach and cook until completely wilted.
Let cool slightly and squeeze out as much liquid as possible.
Finely chop the lamb's quarters or spinach.
In a small bowl, combine the lamb's quarters or spinach with the rest of the ingredients.
Serving suggestions:
Enjoy right away, or chill for 1 hour before serving to let the flavours combine.
I like to serve this dip with crackers, corn chips or bread, and veggies of my choice.
If you are looking to take advantage of more local produce this summer, here are a few of my favourite Foodie Friday recipes featuring local ingredients:
Do you have a favourite locally inspired recipe? Share in the comments below!