Drumming surrounds the round pen. An Elder smudges the horses with juniper. The sounds of horses moving about fill the air, while youth take it all in. This an opportunity for youth to learn about smudging, the benefits of it, and experience it for themselves.
Nazko is a First Nations community 100 km west of Quesnel, with 407 Nazko band members and approximately half living on Nazko land. The Nazko people are part of the Carrier Nation.
"When [I was asked] to come and smudge the horses off, instantly it was a yes," says Nazko Elder Dennis Patrick. "I grew up riding horses in Trout Lake outside of Nazko; it was a way of life and it helped us to do our work. We rode almost every day as kids. We did our work/chores on horses but as children it brought us a lot of joy and play time. I like watching how the kids are interacting with the horses and learning how to act in a way that keeps them safe and respects the animal. As a Nazko Elder, it brings me great joy to see our children outside working and playing with horses. To my way of thinking, this is health."
Santania Grant is a nurse at the Nazko Health Center alongside Health Director Anita Andreychuk. They both felt that there was a gap in youth programming and that a youth focused equine program would be a natural fit. Santania, who made a living working with horses prior to becoming a nurse, developed the program in use today, and delivers this program as an independent contractor.
"Horses are not new to Nazko," says Santania about the youth equine facilitated wellness program in Nazko. "Elders talk to me about their parents or grandparents who rode. Horses were a way of life for the Nazko people."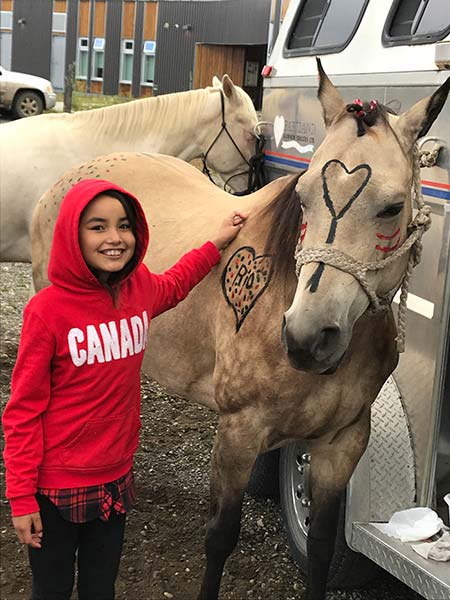 The equine facilitated wellness (EFW) builds on this tradition and helps support wellness, healing, and self-discovery through engaging with horses.
While working with horses, caring from them, learning how to lead them, tuning into their feelings, and riding them, the youth embark on a journey of self-discovery and healing.
Rio is the horse central to this EFW work. Safety is crucial to any EFW program and Rio is just the horse for this. She is kind and gentle. According to Santania, equine partners (horses) can help youth overcome trauma and adversity through their gentle connection.
Along with learning to ride, the youth create dream boards of their personal goals with the help of Lyndsey Rhea, Aboriginal Patient Liaison (APL) from G.R. Baker Hospital. They also learn about healthy eating and receive nutritious meals and snacks.
"I have been lucky to be involved with the Youth EFW program in Nazko," says Lyndsey. "As the APL, it's a good opportunity for me to get to know the kids and their parents and to build relationships and help address any healthcare needs. I have been able to work with the kids to set healthy goals and dreams by making vision boards. Santania is an amazing facilitator and makes every child feel safe and special. It's amazing to see how proud the youth are as they begin to learn new skills."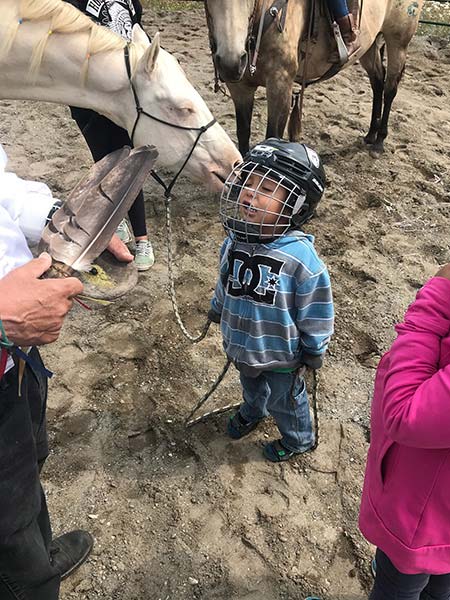 Families in Nazko come to watch the youth and build connections with the rest of the healthcare team and health services professionals. This program creates a culturally safe space where participants and families feel respected and free from discrimination, and where healing from intergenerational traumas from colonialism and residential school can occur.
"The EFW helps to build self-esteem, healthy habits, and pride and is an asset to the entire community," says Lyndsey.
Santania explains that some of the youth that gave her the hardest time have really flourished. Some of these youth are even mentoring other youth and sharing knowledge they have gained.
Through EFW, horses can assist youth cultivate empathy and respect for the environment, leadership skills, and teamwork. This program has been running for two summers and is very popular among Nazko youth ages 5-15.
For more information about the equine program in Nazko contact Santania Grant grantsantania@gmail.com or Lyndsey Rhea Lyndsey.rhea@northernhealth.ca.