2019 has been a big year for dietitians, with the release of the new Canada's Food Guide; we recently shared what Northern Health dietitians had to say about this new and improved guide.
During this Nutrition Month, the blog has featured the work of a few local dietitians, including Amelia and Allie. Others have been sharing their knowledge about food and nutrition.
For the last few years, on Dietitians Day, our amazing team has shared tips on food, nutrition, and healthy eating in a "pro tips" blog post. This year, we are doing it again, but with a twist! Part of eating is done with our eyes, so why not share photos that bring our tips to life? "See" what our dietitian team members have to say!
Lise Luppens (Terrace)
Cook together with family or friends! Even toddlers and preschoolers can get involved. Learn more about building healthy relationships in the kitchen.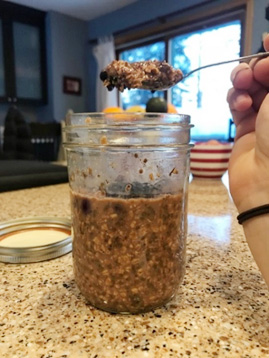 Hannah Zmudzinski (Dietetic Student)
Mornings can be hectic! Planning meals ahead of time can help simplify your day. Try making breakfast the night before with these delicious overnight oats:
Ingredients:
1/3 cup quick oats
1 tbsp chia seeds
Pinch of cinnamon
4-5 mint leaves, chopped
1 cup chocolate soy beverage or milk
Top with fresh or frozen berries
Instructions:
Mix contents into container and chill in fridge overnight.
Next day, you can enjoy the oats at home, or wherever your morning takes you!
Hannah Wilkie (Fort St. John)
Re-grow veggies from veggie scraps! For example, you can re-use the bottoms of green onions by placing the roots in a glass with a small amount of water. Watch them re-grow before your eyes. Just be sure to change the water frequently!

Dena Ferretti (Terrace)
Dietitians also have picky eaters; even when both parents are dietitians! Shocking, I know. In our house both our children have very different palettes. My daughter loves black olive pizza and my son loves Thai sweet and spicy sauce with his rice. What helps us navigate the waters of "I don't like that" or "I won't eat that" is involving them in cooking. Remember, food is completely new to children and it may take 20 or more exposures to a new food before they adopt it. Those exposures can include something as simple as seeing the food, touching the food or smelling the food – we haven't even begun to talk about bringing that food to their mouth. Be patient and try to have fun with your children around food.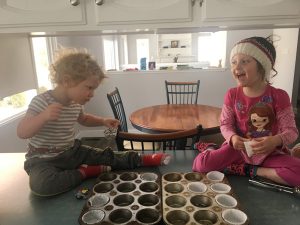 Robyn Turner (Vanderhoof)
Healthy eating doesn't need to be complicated. Pair simple foods from two or three food groups from Canada's Food Guide to make fast, portable, and tasty snacks. One of my favourites is a classic: apple with peanut butter!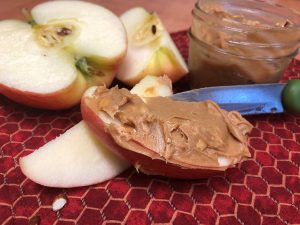 Flo Sheppard (Terrace)
Ditch dieting.Instead, build a healthy relationship with food and your body. Feed yourself faithfully with foods you enjoy and that make you feel good. Listen to your body to know what and how much to eat to feel satisfied. Take care of, and appreciate, your body for all it can do.
Emilia Moulechkova (Terrace)
A playful approach to food can go a long way to support healthy eating. Build variety into your diet by trying a new food, recipe, or method of cooking. Here I am on my 30th birthday having fun making homemade corn tortilla for the very first time. We served them family style and let everyone choose from a variety of toppings such as lettuce, onions, red pepper, refried beans, ground beef, and salsa. Yum!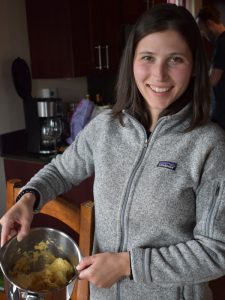 Laurel Burton (Prince George)
Healthy eating is much more than food and nutrients; it's also about fostering social connection and creating a sense of community. Looking for more ways to eat with others? Take a cooking class with a loved one, or plan a monthly dinner date with friends. At my workplace we try to come together every few months to share food. After all, nothing invites variety quite like a potluck!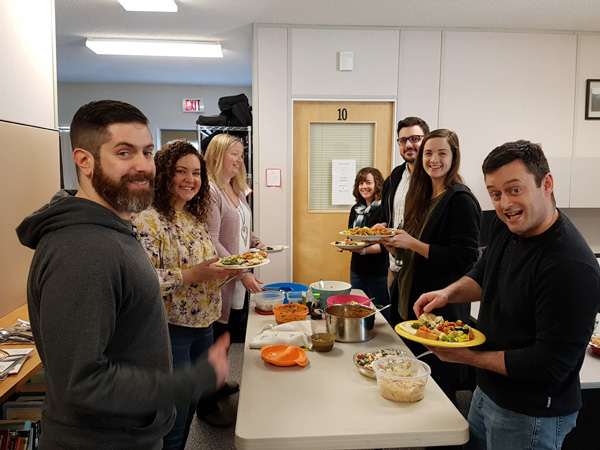 Looking for more RD tips? Check out our previous posts!
Nutrition Month Eating Together contest
During Nutrition Month throughout March, we want to see how you eat together! Organize a date to eat together, show us, and be entered to win an Instant Pot! This could mean grabbing a coffee and scone with a colleague, organizing a lunch date with a friend, having a potluck with family – whatever this means to you! Set a date, eat together, and show us to win! See our Eating Together contest page for complete details.