This fall I reignited an old passion of mine: dance. Growing up I spent many hours at my local dance studio practicing jazz and my favourite, ballet. Besides teaching me important aspects of physical activity like coordination and flexibility, dance taught me important things I still appreciate now as an adult.
What dance has taught me:
Good posture: I learned to put my shoulders back, not slouch, and stand tall!
Musicality: thanks to my ballet training I still enjoy listening to classical music; leading up to Christmas I had the Nutcracker on repeat!
Discipline: I learned it takes hard work to learn a routine or new move! I've applied this skill to many things since my younger dance days, including post-secondary school and my career.
From ballet to ballroom
Now I've traded my ballet slippers for ballroom heels! This New Year's Eve I'll be dancing at the Prince George Civic Centre as a member of Boogie with the Stars (BWTS). BWTS is a fun-filled biannual fundraising gala that sees a variety of Prince George community members come together and face off on the dance floor! There are several teams, each one raising money for a different charity. My partner Gurinder and I are Team Wheelin' Warriors of the North and all of our funds will go to the BC Cancer Foundation. We'll be dancing a salsa and swing compilation! It's been fun to take dance lessons again and try something new. Plus I forgot what good exercise dance can be! Have you ever been curious about dance? Here are a couple reasons why you should try it, including a couple benefits I've discovered: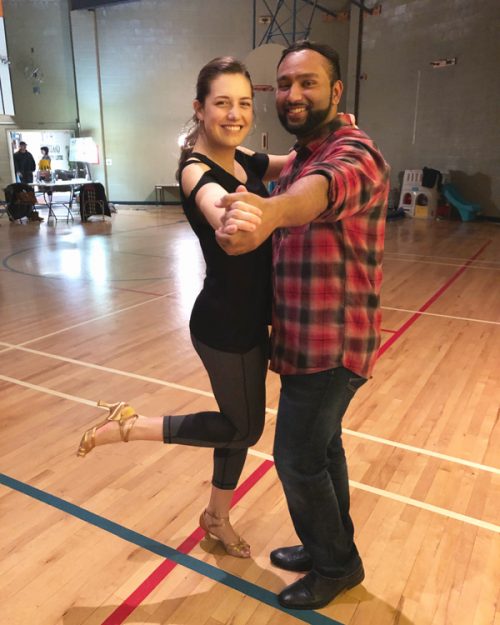 Now that the NYE countdown is on, my partner and I are continuing to practice hard. Whether you have experience or not I'd encourage anyone to give dance a try! Are you part of a dance group in your community? What kind of dance do you enjoy the most?