Indigenous peoples valued oolichan as a food source
Every spring, the oolichan (or Eulachon) return to the Nass and Skeena rivers in Northern BC. Oolichan are a small ocean fish that migrate long distances up rivers and streams to spawn annually. The oolichan return is a historically and culturally significant event. For thousands of years, Indigenous peoples along the Pacific Coast have valued oolichan as a food source, for their high oil content, and as an important ceremonial and trade item. Oolichan trading routes, known colloquially as grease trails, connected coastal communities with interior communities. Last weekend, I drove from Terrace along the Skeena River towards Prince Rupert and took pictures. Seagulls, eagles, and sea mammals were converging to feast on the oolichan! It's truly a mesmerizing sight.
Sharing knowledge and culture
Oolichan can be fried, smoked, dried, salted, frozen, canned, or reduced to grease. My favorite way to have oolichan is smoked. I was fortunate to have smoked oolichan at a recent cultural learning event held in Gitanmaax. Elders and traditional knowledge holders shared Gitxsan and Wet'suwet'en culture and traditional wellness practices with Northern Health staff. This was an amazing event organized by members of the Northwest East Aboriginal Health Improvement Committee (AHIC) and had over 60 attendees. Traditional First Nations foods were available and many Northern Health staff had their first taste of oolichan.
Oolichan is nutritious!
Oolichan is an excellent source of protein which is important for building and repairing muscles, skin, and blood. It is also high in iron, which we need to carry oxygen in our blood to keep our bodies strong, energetic, and to help prevent illness. Oolichan grease is high in vitamin A, which helps us prevent infection and keeps our skin and eyes healthy. An added bonus in oolichan is the high omega-3 fatty acid content, which helps prevent stroke and diabetes! See the First Nations Traditional Foods Fact Sheets for more information. Due to conservation concerns, oolichan cannot be harvested recreationally.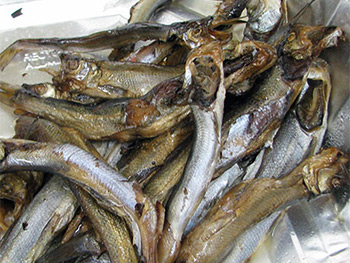 Smoked Oolichan
Directions:
Wash the oolichan well under running water.
Place the fish in a barrel of fresh water to which has been added enough coarse salt to float a potato (about 2 cups (500 ml) coarse salt in 3 gallons (12 l).
Soak for about ½ hour to 1 hour or until the oolichan eyes turn white.
Hang the oolichan for smoking by threading on cedar sticks. Push the strip of red cedar in through the gills and out through the mouth.
Hang the oolichan on heavy sticks from the rafters in the smokehouse, making sure the fish are not touching each other. There needs to be enough space between each rack and the fish so that the smoke is even.
Start the fire after the oolichan finish dripping. Use alder wood for smoking.
Smoke the oolichan for 2-6 days. Smoke longer for drier fish.
Learn more about oolichan: