Over the course of three days, 35 high school students from Terrace and Kitimat had the chance to learn, hands-on, about the different pathways and careers available to them in health care.
The program, 'Adventures in Healthcare', took place in May and was organized by the Rotary Clubs of Terrace-Skeena Valley, Terrace, and Kitimat, with support from the local school district, Coast Mountain College, University of Northern British Columbia and Northern Health. The goal was to expose students to the many pathways and career opportunities they could follow, and ultimately inspire them to pursue those careers that appeal to them.
Health care professionals are in demand
"Northern Health, like all of BC, is experiencing a huge need for health care professionals," said Sandra Rossi, Regional Director of Recruitment and Retention at Northern Health. "There is a massive range of career possibilities often unknown to young students. Adventures in Healthcare introduces students to approximately 50 of those careers."
"Our past success with this program shows how well it works to attract local youth to health care opportunities," she added.
Real life practice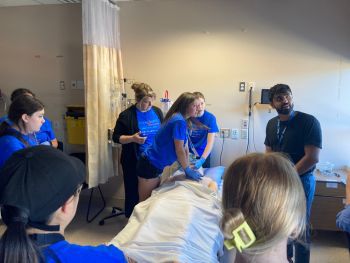 From May 14 to 16, students spent one day each at the College and the UNBC campuses, then the third day at the Public Health Unit and Mills Memorial Hospital in Terrace. Participants met health care and post-secondary professionals who shared their expertise. They got to see a variety of demonstrations and simulations, as well as practice some simpler techniques such as using a stethoscope, taking X-rays and dressing wounds.
Students toured and learned about different departments, and heard about the new hospital, currently under construction, set to open in the spring of 2025. More than double the size of the existing facility, the new hospital will require significantly more staff and offer excellent work opportunities for anyone interested in health care.
Great success
"This program has taken place a few times in the past in Prince George, so we were really excited to host it in Terrace. We hope to expand the program in the future so we can offer this opportunity to even more students – potential recruits – so that they can learn about health care career opportunities throughout the Northwest," said Chris Simms, past Health Services Administrator with Northern Health based in Terrace.
"Hands down, I think this was a huge success. We are thankful to the Rotary groups and all the other partners who helped make this happen," he said. "We are also very excited at how interested and engaged the students were. We hope to see their names on our job postings in the near future!"
Visit adventuresinhealthcare.com for more info.