This article was co-authored by Mandy Levesque and Denise Foucher.
With the recent launch of the IMAGINE Community Grants offering funding up to $5,000, the time is right to take action to promote health and improve the well-being of our Northern residents.
Injury prevention is one of the health promotion priorities we want to see as a project focus when the grant applications come in (deadline is October 31, 2016) and is definitely one way to ensure Northern residents can stay healthy.
What injury prevention project idea would benefit your community?
Did you know that most injuries are preventable? Injuries are not "accidents." They happen in similar, predictable patterns and as many as 90% of injuries can be prevented.
In BC, preventable injuries that happen:
On the road,
From falling,
In or near water, and
From ATVs
are among the leading causes of death and hospitalization across all age groups. Those numbers are even higher among Northern BC residents.
So, what does an injury prevention focused IMAGINE grant application actually look like?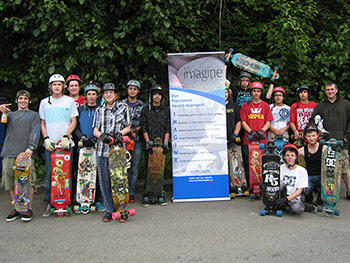 Get inspired by these great ideas:
Water safety
Host teen water safety swim nights at the local pool
Organize a Life Jacket Fashion Show
Falls prevention
Get the gear for floor curling in community centres
Promote sidewalk safety in slippery winter conditions (e.g., install boxes with sand/grit and scoops) (more on falls prevention from FindingBalanceBC.ca)
Road safety
Conduct a walkability assessment and look to make changes for safety (more on walkability from WalkBC.ca)
Mental wellness
IMAGINE Community Grants
IMAGINE grants support partnerships and build capacity, and create an opportunity to build lasting change in your community. Get your exciting injury prevention project applications in by October 31, 2016.
IMAGINE Community Grants provide funding to community organizations, service agencies, First Nations bands and organizations, schools, municipalities, regional districts, not-for-profits, and other partners with projects that make northern communities healthier. We are looking for applications that will support our efforts to prevent chronic disease and injury, and improve overall well-being in our communities.