Christy Demeter, a nurse practitioner in Dawson Creek, is part of a team studying the effects of polypharmacy in Northeastern BC. Polypharmacy is the regular use of at least five medications, and is common in older adults and younger at-risk populations. The project's target population was those aged 65 years or older who use five or more prescribed medications. Polypharmacy can lead to unwanted drug interactions, adverse side effects, extra costs, and other problems, particularly as we age, because the body processes medications differently. This is an extension of the polypharmacy project that Dr. Helm led in in Tumbler Ridge.
In Dawson Creek, Christy works with a team of physicians as well as primary care pharmacist Sydney Saunders. The Dawson Creek team chose to navigate their polypharmacy project differently from how it was approached in Tumbler Ridge, for two reasons. Firstly, Dawson Creek is a much bigger community than Tumbler Ridge, with a population of over 12,000 people, as compared to Tumbler Ridge's 2,000. Secondly, Dawson Creek is surrounded by a large rural area – including some small portions of Alberta – with the entire area being serviced by Dawson Creek, including health care.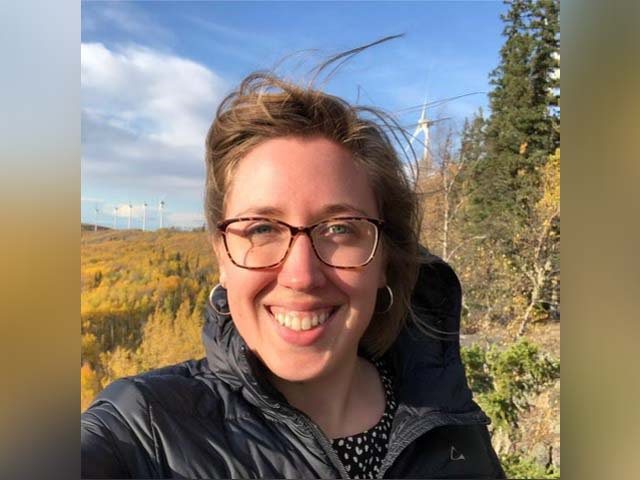 For the polypharmacy project, Christy flags patients who fit the project's criteria, then chats with them about their willingness to have their medications reviewed and take part in the study.
If they're interested, she refers them to Sydney, who then discusses their medications with them during longer appointments. This includes discussions about the patient's medical history and any non-drug measures, such as diet, exercise, and sleep habits. Sydney then reconnects with Christy to arrange follow-up appointments.
"This patient involvement and interaction is critical to both of our roles," says Sydney.
Both Christy and Sydney started working in Dawson Creek at about the same time, in 2019. Christy, who Sydney describes as the "glue" of the Dawson Creek team, would reach out so that the doctors knew they could refer patients to Sydney, an important resource in the Dawson Creek team.
Sydney works regular hours at the clinic, which allows her to collaborate with the team. This is important for her, as it allows her the chance to make full use of her role as a pharmacist who provides patient-centred care and is also a frontline clinician. She works directly with doctors and patients, and not just in a pharmacy setting: she'll also visit patients at home, if necessary. The expertise and knowledge that she brings to the community are an integral part of the Dawson's Creek team's work.
One example of Sydney's expertise is the story of a patient who had serious – and mysterious – bruises and bleeding on their hands. As Sydney explored the patient's medical history, she realized they were still taking medication for a previous heart attack. Because they had fully recovered, this medication was no longer needed, and was in fact causing harm. (This sometimes happens when several medications are refilled at the same time and the stop date of one may not be caught. As well, sometimes new prescriptions will override old.)
After Sydney discovered the cause of the issue, the patient stopped taking the medication. Their hands cleared up and the bruising and bleeding did not return.
Sydney's understanding of medication is an enormous asset: she helps patients understand their prescriptions and gives them information about alternative medications that can sometimes be more affordable. She also makes sure patients and medical staff know about any possible adverse effects of medication. As well, she recommends the best time of day to take medications that fits within the patient's lifestyle. All of this can help make medication more accessible and effective for patients.
When she started her practice in Dawson Creek, it was important to Christy to learn about the medical histories of her patients, including their medication use. In their appointments, she asks what patients are taking, why they're taking it, and for how long. As often as possible, she researches the files she received from patients' previous doctors, if they're available.
"The biggest thing is asking why and digging deeper," she says. "Sometimes it doesn't work. You make small changes to see if patients need that medication. It's trial and error."  
A key outcome of this project is that Christy and Sydney have evolved into complementary components of the larger medical team. A holistic approach to patient care is important to Christy; in the future, she'd like to incorporate other professionals into the team, such as physiotherapists, nurse educators, dietitians, social workers, and others.
"It's hard to change a culture, what people have been used to for so long," says Christy. "It's not a fast process, but we're taking steps in the right direction."
Outside her medical work, Christy has taken a shine to remote rural life, having moved to Dawson Creek from Calgary. She was struck by the way people go out of their way to help one another, and their random acts of kindness. It's also important to her that the size of the community allows her to see things come full circle – seeing patients in the clinic, but also seeing them out and about.
Having grown up in a small town on the East Coast, Sydney also enjoys rural life.
"I adapted well to Dawson Creek and the close-knit community, particularly the collaboration that occurs in the small group of health care professionals," she says. "Keeping patients happy, healthy, and thriving in their community is what keeps me motivated!"
Thank you to Christy and Sydney (and the entire Dawson Creek team) for your holistic and effective approach to providing the best care possible!