For Nutrition Month this year, we're thinking about all of the ways we can make food with the family, and we're celebrating how food can have the potential to fuel, create discovery, and bring us together!
Food can bring us together
Growing up in a family whose parents immigrated to Canada in the mid-90's, we were quite traditional with our food habits. My parents valued eating together as a family and we were not permitted to start eating until every single person sat down at the dinner table. As a ritual in our household, my brother and I sat down and called each of the family members present to join us before every meal. This, my parents explained, taught us discipline and respect and would help build character. Our friend's families on the other hand, either said grace or simply dove right into the food as soon as everyone sat down.
Meals allowed us to share the best parts of our day as well as our struggles. Not only was personal news shared but international news as well, since the children didn't watch the news or read newspapers. These daily rituals helped reinforce values, mold our personalities, and allowed us to revisit some of the traditions my parents were taught in their youth; traditions like: how to hold a bowl, how to hold our chopsticks and present our food, how to speak during meals, and what to do when finished.
As we got older and committed to extracurricular activities and work, conflicting schedules made it harder to bring everyone together for dinner. Today, we cherish the times we get to sit down and enjoy a family meal, and all the other ways food brings us together.
Some examples of how food brings my family together:
Harvesting fruit trees and berry bushes: we have a cherry tree, a golden plum tree, goji berry bushes, and blueberry bushes in our backyard. This means there was always something easy to pick off a tree or bush and eat throughout most of the growing season.
Harvesting wild berry bushes: there are enormous blackberry bushes down the fire lane by our house. After work/school we would head home and my family would pull out a ladder, place it on a dolly, and walk it down the fire lane to pick wild blackberries. We got some interesting looks from unfamiliar faces driving by.
Meal prep on the weekends: some weekends we would make my mom's famous Taiwanese beef stew. This involved a lot of prep and a long slow simmer to make sure the beef was melt-in-your-mouth tender.
Grocery shopping together: grocery store runs always happened after dinner to avoid the rush hour traffic. The end of the day is also a great time to go for marked down food. My brother and I would play games and see who could spot the marked down foods first.
Preparing snacks together: whether it's cutting up veggie sticks, storing berries in little to-go containers for lunch, or making granola bites, one of us would attempt to toss whatever we were preparing at each other and the other one would try and catch it in their mouth. Tips: the trick is in a high toss so the catcher has time to react and to use something with a bit of weight (berries work better than popcorn).
One of my favourite snacks is no-bake energy balls. They're so versatile - you can mix and match ingredients and make easy substitutions. To store in the winter, you can simply freeze/refrigerate them in a sealed container outside or in the garage. These energy balls are perfect for every season!
No-Bake Energy Balls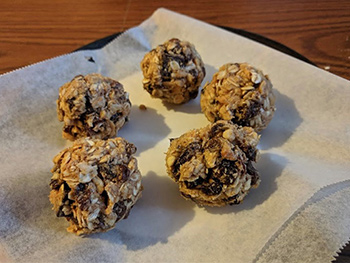 Recipe Adapted from: Wonder How To Food Hacks
Ratio guide (see examples of ingredients below):
1 cup rolled oats
1 cup assorted ingredients
½ cup something nutty/sticky
1/3 cup something liquid/sugary
Examples of ingredients:
Nutty/Sticky
Peanut butter
Sunflower seed butter
Almond butter
Cashew butter
Liquid Sweeteners
Regular syrup
Honey
Maple Syrup
Nutty/Crunchy/Seedy
Chopped almonds
Chopped walnuts
Chopped cashews
Chopped peanuts
Chia seeds
Ground flax seeds
Sunflower seeds
Sweet/Fruity
Mashed bananas
Dried cranberries
Dried raisins
Dried blueberries
Dried apricots
Shredded coconut
Sweet/ Chocolatey
White chocolate chips
Milk chocolate chips
Yogurt chips
M&M's
Bitter
Dark chocolate chips*
Cocoa powder*
Ground coffee beans
*balance out bitterness with sweet foods!
Tangy/Citrusy
Lemon zest
Lime zest
Orange zest
Spices
Ground cinnamon
Ground nutmeg
Ground ginger
Instructions: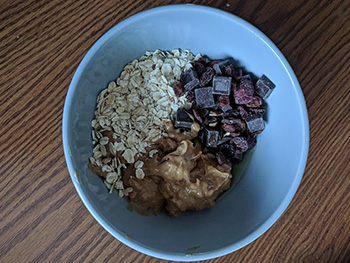 Combine your ingredients.
Stir and shape into balls (2 tbsp or 2 inches in diameter) on to a baking sheet. No need for a food processor, just stir until all the ingredients are combined and can be formed into balls. If too wet, add more rolled oats. If too dry and crumbly, add more nutty/sticky ingredients or liquid sweetener.
Refrigerate for 20-30 mins and enjoy! Store covered in the refrigerator for up to two weeks or freeze to keep them longer.
What role does food play in bringing people together in your life? Is there a food you like to make with your family and friends? Share your ideas using #NutritionMonth on Facebook, Twitter or Instagram! Follow Northern Health or the Dietitians of Canada for more updates on how to unlock the potential of food!