There are many forms of dementia. It's a term that refers to diseases and conditions that impact memory, language, problem-solving, and other thinking skills that affect a person's ability to perform everyday activities. Over 85% of people living in long-term care homes have some form of dementia.
Across the Northern Health (NH) service delivery area, there are thirteen long-term care homes and eight hospital units for people living with dementia. For the last four years, NH has focused tremendous effort towards improving the quality of life for people with dementia by applying DementiAbility Methods.
This work was started to increase NH's capacity in long-term care homes and provide non-pharmacological approaches to behavioral and psychological symptoms of dementia (BPSD).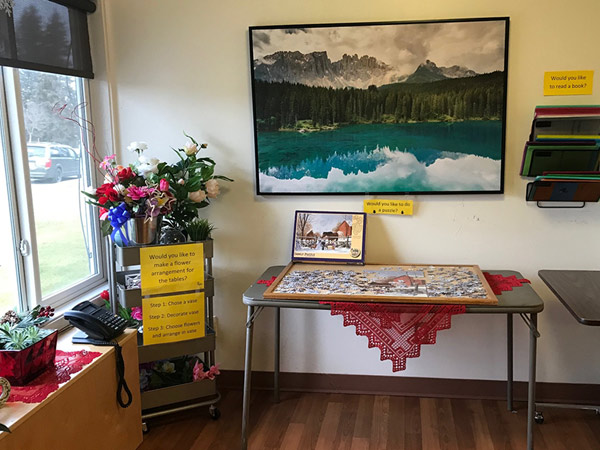 DementiAbility Methods are multi-disciplinary and evidence-based. They take a person-centred, non-pharmacological approach to dementia care by creating an environment that supports the needs, interests, skills, strengths, and abilities of a person with dementia and other forms of cognitive impairment. Through meaningful activities that enhance function, the methods support memory while enriching the lives of people living with dementia. The goal is to provide person- and family-centred care with a focus on enabling individual abilities that nurture a sense of purpose, belonging, joy, and companionship.
Everyone gets involved in these relationships – staff, residents and their families, and volunteers – to prepare an environment (facility or home) with memory supports and things to do, setting each person up for success in the process.
A prepared environment can include signage or visual cues to help a person find different places and things, and to complete tasks successfully. Memory supports also:
Help connect a person suffering from dementia to people wearing name badges (when the badge can be clearly seen).
Remind people about things they need to do.
Teach residents to remember which room is theirs when each person's door is unique, including their own, which they learn to look for.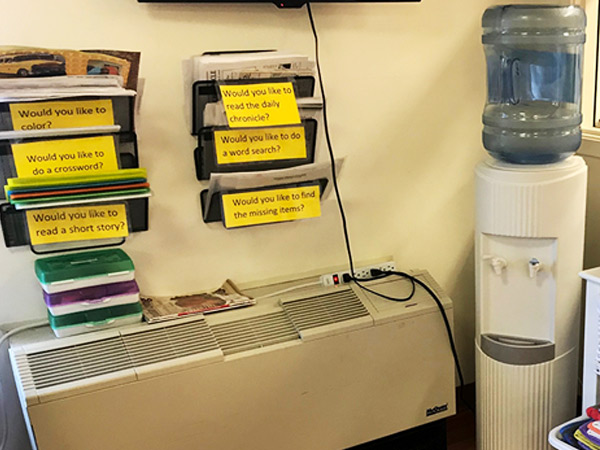 NH staff are enabling the abilities of people in care through the many ways they're helping each person enjoy better days and be the best they can be.
 Prepared environments provide opportunities to:
Do things independently.
Fulfill roles based on a person's abilities, needs, interests, and choices.
Use an individualized schedule with daily routines.
Connect socially with others.
Enjoy meaningful leisure pursuits.