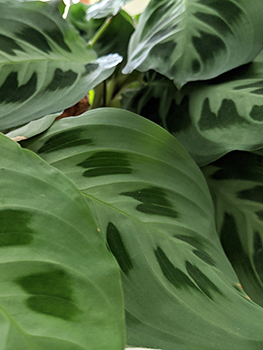 The first article of this series explored the concept of biophilia, the need for a connection to nature, as a mental wellness pick-me-up. Apparently, the era of biophilic design with green integration for our inside spaces is here and growing in popularity in both public and private spaces. Even here in our region, Prince George's Exploration Place is creating a living wall for the new paleo-botany hall. If you have large older plants that need a new home, or want to contribute plant clippings, send an email to plants@theexplorationplace.com to learn how you can get involved. Beyond our city, perhaps you've noticed other biophilic designs trending or new hashtags like #houseplantsofinstagram or the #stayhomewithplants challenge from #urbanjunglebloggers?
The challenge in Northern BC is the reduced winter daylight available in our homes and office spaces to bring our dreams of interior urban jungles to life. In part one of this series I provided information on African violets, Christmas cacti, Fig trees, Peace Lilies, and Ponytail palms. Now, here are my additional five favourites to suggest for your houseplant collection. Then you too can post your success on Instagram!
These five suggestions, just like the previous five, all require less light, less attention, and less water. I have larger plants in my home so I am able to go up to two weeks without watering, and up to three weeks with my cacti plants – so less is more!
I will leave you with a few houseplant resources to browse:
Are you planning to post your new urban jungle to Instagram? Share with us in the comments!