Pumpkins are much more than a fun Halloween activity
It's that time of year again – when kids are getting their Halloween costumes ready, and pumpkins are being carved. I recently learned that the tradition of carving pumpkins began in Ireland, as a way to ward off evil spirits. Interesting, right? To this day, pumpkin carving is still a fun way to spend time with family or friends, to be creative, and to celebrate the fall season.
But pumpkins are much more than a fun Halloween activity. As a dietitian, at this time of year I often get asked, "Aside from carving and eating it in pie, what can you actually make with pumpkin?"
Pumpkin, like many of its cousins, is an edible squash, like butternut or acorn squash. It comes from the same family as cucumbers, zucchini, and watermelon. For some reason though, pumpkins seem to be less well known for their versatility as a food. While we see pumpkin flavoured things everywhere these days: in coffee, granola bars, and yogurt, it's not often featured in main dishes.
Ways to eat pumpkin
You can eat pumpkin in many of the same ways as other squash: add it to soups, stews, pasta dishes, sauces, oatmeal, pancakes, baked goods, or your favourite snacks. Pumpkin even works in stir-fry.
You can buy canned pumpkin puree in the store – this is a convenient way to have pumpkin around, and you can store it for a long time. You can also make your own pumpkin puree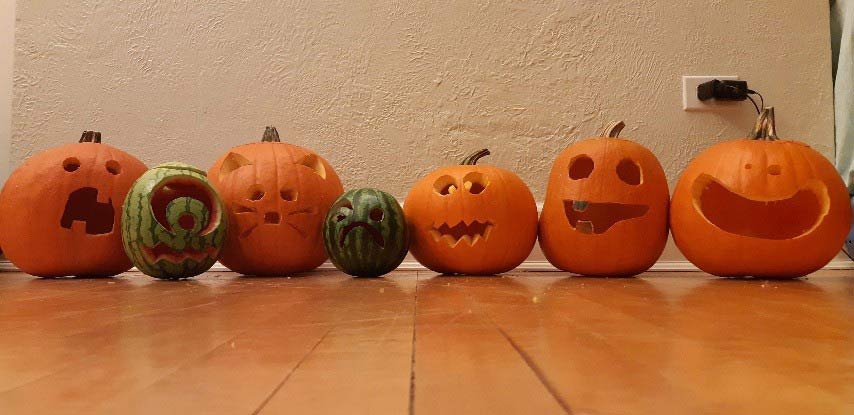 Tips on types
There's a difference between edible and ornamental pumpkins:
Ornamental
Large carving pumpkins: Not nearly as flavourful as their smaller cousins. They're watery and stringy. You can still roast and eat the seeds – highly recommended!
Huge show pumpkins: These are really cool, if you've ever seen one at a fair, but they're not edible.
Edible
Sugar pumpkins: They're a few pounds (~2-3lb) and have a rich, sweet flavour.
Miniature pumpkins: Provide a lovely center piece at a fall themed table. You can also eat them. They become bitter as they age, so if you're using as a center piece, eat within a few weeks.
Benefits of pumpkin
They're a great source of fibre, potassium, and vitamin C, as well as vitamin A, which is important for vision and a strong immune system.
Working with pumpkins can be a fun activity for kids: Choosing one, roasting the seeds, or helping to make a tasty recipe!
Don't forget about the seeds!
You can roast them: Add your favourite spices or just with a little oil and salt (a fun activity for kids).
Add to salads, cereals, trail mix (for a great on-the-go snack), yogurt, and baked goods, or eat a handful as a snack.
Pumpkin seeds are a great source of protein, fibre, iron, zinc and magnesium.
Pumpkin oatmeal
Prep time: 5-10 minutes
Cook time: ~15 minutes
Yield: 4 servings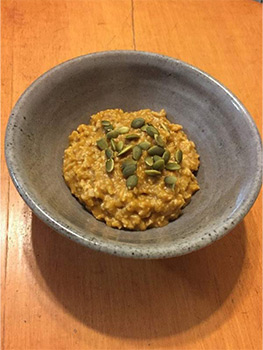 Ingredients:
2 cups of quick cooking oatmeal
4 cups of water, or 2 cups water and 2 cups of milk (if you'd like a creamier oatmeal)
1 (14 ounce) can of pumpkin puree, or 1 ¾ cup of roasted sugar pumpkin
½ tsp. cinnamon
½ tsp. nutmeg
¼ tsp. ground cloves
2 tbsps. maple syrup or honey
Instructions:
Combine water, oatmeal and bring to a boil. Add the pumpkin puree and spices.
Cook as instructed on your oatmeal package (should take around 7 -10 minutes for the oatmeal to cook). Stir often.
Add maple syrup, stir, and serve.
Optional: Sprinkle with pumpkin seeds, coconut shavings, or any topping you like.
This Halloween, when you're picking a carving pumpkin from your local Farmers' Market or grocery store, grab a sugar pumpkin and try it for your next meal!