Have you ever tried black bean salsa?
Don't be scared away! It's just like normal salsa, but it has black beans in it! It's a deliciously sneaky way to add more fibre, protein and pulses to your diet!
You may have read a lot from my fellow dietitians about pulses during foodie fridays this year. Why's that? Because the United Nations declared 2016 the International Year of Pulses! The goal is to increase awareness of the nutritional benefits and how pulses are an important part of a sustainable food system. Learn more from the United Nations' Food and Agriculture Organization.
What is a "pulse" anyway? Are they good for you?
Pulses are a family of plants including:
Chickpeas (think hummus)
Dried peas (think split pea soup)
Dry beans (think pork and beans – like the ones you take camping)
Lentils (small disc shapes you might see in soups or stews)
Things you may know:
Pulses are high in fibre! This helps with regularity, keeping you feeling full longer. Many Canadians are not getting the recommended amounts of fibre in each day. The recommended daily intake of fibre is 38 g/day of total fibre for men and 25 g/day of total fibre for women.
Pulses are a good source of protein! This makes them a great plant-based alternative to meat or animal products.
Things you may not know:
Pulses have a low glycemic index, meaning that they are digested and absorbed slowly in the body and help to keep blood sugar levels more stable.
Pulses can help lower LDL ("bad") cholesterol in the body because they contain soluble fibre.
Pulses use half the non-renewable energy inputs of other crops and have a low carbon footprint! Pulse Canada has more information about pulses and sustainability.
Tomatoes and lycopene
Let's also talk tomatoes. Garden tomatoes in season taste fantastic (like they should taste), but store-bought ones out of season often taste and look bland. The key to any recipe is fresh ingredients! In the winter and spring, I prefer to use canned tomato products because they are harvested and preserved at the peak of ripeness. Also, did you know that the heating process involved in canning tomatoes increases the amount of lycopene in tomatoes by about 7 times?
Lycopene is an antioxidant that is strongly linked to preventing cancer! Lycopene is particularly well known for the protective effects it has against prostate cancer. Tomatoes are by far the winner when it comes to lycopene content of food so consider canned tomato products a nutritious option.
Information above based off of the Canadian Nutrient Files.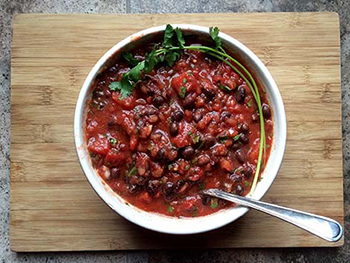 Black Bean Salsa
Recipe sourced from: Dietitians of Canada Cookbook, Simply Great Food, by Patricia Chuey, Eileen Campbell and Mary Sue Waisman.
Makes enough to feed a crowd.
Salsa recipe ideas:
Add salsa to scrambled or poached eggs and serve on toast for a quick breakfast, lunch or dinner.
Serve this salsa with lettuce and veggies, avocado, chopped cooked chicken, and corn for a simple Mexican salad.
Spoon salsa over white fish or chicken before baking in the oven.
Top your favourite burrito or taco filling with this salsa for a high fibre punch.
Ingredients:
3 cups tomatoes, diced (if in season) or 750 mL can of diced tomatoes
1 small red onion, finely minced
1 jalapeno, ribs and seeds removed, minced (optional)
1 can of black beans, rinsed
½ cup chopped cilantro (optional if you aren't a cilantro fan)
1 tbsp olive oil
½ tsp salt
Juice of 2 limes
Instructions:
Chop tomatoes, if using, or empty canned tomatoes into a large bowl. You can drain the extra juice if you like your salsa more chunky than wet.
Mince onion, jalapeno and cilantro and add to the tomatoes.
Rinse black beans and add to the salsa.
Add olive oil, salt and freshly squeezed lime juice. Stir well to combine.
Cover and refrigerate for at least 2 hours or overnight. Enjoy!