Lentils are a great source of protein
As the cold weather moves in, it's so satisfying to warm up with a bowl of something hot. Chilies, soups, and stews are a staple for many families and can be a great source of nutrition if done right. By pairing the veggies of your choice with a source of protein and fibre, you can have a complete meal ready and on the table in no time at all!
In a past blog post, I spoke about my love for the Oh She Glows food blog. I recently made their Glowing Spiced Lentil Soup and was not disappointed!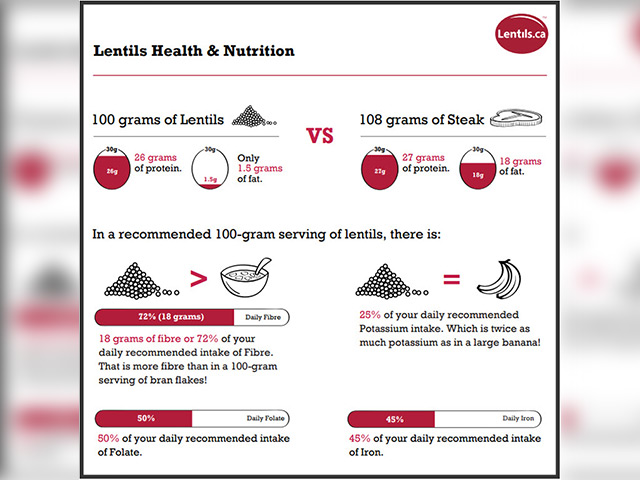 Explore new flavours
This soup is a great example of a hearty, delicious, complete meal that contains no meat; in fact, it contains no animal products at all! Going "meatless" for one or two meals a week is a great way to challenge yourself and your family to explore new flavours and try new recipes. Reducing consumption of meat, red meat in particular, may also lower your risk of developing heart disease and certain cancers.
Lentils are one of my favourite meatless sources of protein. One serving (100g) of lentils contains the same amount of protein as one serving of steak (26g), but with only 1.5g of fat (the steak has 18g), 18g of fibre, and half of your daily recommendation of folate and iron! If you're hooked on lentils after trying this glowing spiced lentil soup, head on over to lentils.org for more recipes and lentil-related nutrition tips.
Glowing Spiced Lentil Soup
From: Oh She Glows
Ingredients:
1 1/2 tbsp extra-virgin olive oil
2 cups (280 g) diced onion (1 medium/large)
2 large garlic cloves, minced
2 tsp ground turmeric
1 1/2 tsp ground cumin
1/2 tsp cinnamon
1/4 tsp ground cardamom
1 (15 oz/398 ml) can diced tomatoes, with juices
1 (15 oz/398 ml) can full-fat coconut milk
3/4 cup (140 g) uncooked red lentils, rinsed and drained
3 1/2 cups (875 ml) low-sodium vegetable broth
1/2 tsp fine sea salt, or to taste
Freshly ground black pepper, to taste
Red pepper flakes or cayenne pepper, to taste (for a kick of heat!)
1 (5 oz/140 g) package baby spinach
2 tsp fresh lime juice, or more to taste
Instructions:
In a large pot, add the oil, onion, and garlic. Add a pinch of salt, stir, and sauté over medium heat for 4-5 minutes until the onion softens.
Stir in the turmeric, cumin, cinnamon, and cardamom until combined. Continue cooking for about 1 minute, until fragrant.
Add the diced tomatoes (with juices), entire can of coconut milk, red lentils, broth, salt, and plenty of pepper. Add red pepper flakes or cayenne, if desired, to taste. Stir to combine. Increase heat to high and bring to a low boil.
Once it boils, reduce the heat to medium-high, and simmer, uncovered, for about 18 to 22 minutes, until the lentils are fluffy and tender.
Turn off the heat and stir in the spinach until wilted. Add the lime juice to taste. Taste and add more salt and pepper, if desired. Ladle into bowls and serve with toasted bread and lime wedges.