The milder cousin of the onion and garlic
Two weeks ago, we marked the official arrival of fall! Yes, summer is over, but there is still a ton of delicious seasonal produce to be had. Some of my favourites are squash, pumpkins, carrots, apples, potatoes, and brussels sprouts.
One new food I've been experimenting with in my garden this year is the leek. Leeks grow really well in our rainy Terrace climate. Have you ever tried a leek? Leeks are the milder cousin of the onion and garlic and look like oversized green onions. They are found in most grocery stores but you can also grow them in your own backyard! The white and light green parts are typically what you use in recipes, but the dark green tops make a great stock.
Preparing and cleaning leeks
When I first got my leeks, I honestly had no idea how to prepare them! It turns out that leeks need to be cleaned properly, because dirt often gets trapped in between the layers. Here is a short and simple video on how to clean your leek. One trick is to rinse the leeks downward, which prevents dirt from washing back up into the leek.
Leeks are extremely nutritious, and, most importantly, they are super tasty!
Here are some ways to cook with leeks
Include in your favourite stir-fry
Scrambled eggs with leeks
Add to any soup (leeks are a great addition!)
Add into mashed potatoes or potato salad
Add into casseroles or rice dishes
Stuff fish with leeks sautéed in butter or oil
Or, you can try this flavourful leek and potato soup to warm you up on those chilly fall days.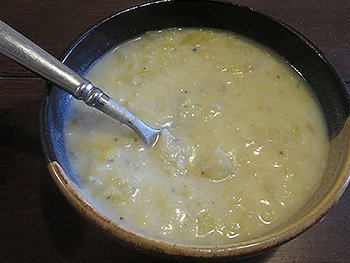 Classic Potato Leek Soup
Adapted from Dairy Goodness
Ingredients
1 tbsp butter
3 leeks, white and light green parts only, thinly sliced
2 stalks celery, thinly sliced
3 large yellow-fleshed potatoes, peeled and diced
2 cups low-sodium vegetable or chicken broth (I only had regular, so I just skipped adding any extra salt)
1 cup water
1.5 cups milk
Salt and pepper, to taste
2 tbsp lemon juice
Instructions
In a pot, melt butter or oil over medium heat.
Add leeks, celery, salt, and pepper and cook, stirring often, for 5 minutes or until leeks are tender.
Add potatoes, broth, and 1 cup water. Cover and bring to a boil. Reduce heat to medium-low and boil gently, covered, for 15 min or until potatoes are soft. Remove from heat.
Stir in milk. Heat over medium heat, stirring often, just until steaming (do not let boil).
Stir in lemon juice and season to taste with salt and pepper.