My husband and I were planning a cross-country ski at Otway, and it was cold! If you're outdoors in cold temperatures, choosing the right type of clothing is important. As one of my son's teachers used to say, "There's no bad weather, only bad clothing." So, what should you wear when the thermometer drops?  
Canada's Arrive Prepared website has great tips for people immigrating to Canada – but they're also useful for people who were born and raised here: "When the temperature drops below -10˚C, your body is not able to keep warm if you are not dressed appropriately. You risk frostbite and hypothermia. Both of these can easily become medical emergencies."
Layering is important, and if you're planning to exercise outdoors, your clothes should breathe and/or keep you warm even if they're damp or (ewww) sweaty; technical fabrics or wool fit the bill here. Merino wool is my favourite: it's the least itchy type of wool, and it's light and warm.
With these tips in mind, I put together the following ensemble for a moderately challenging cross-country ski – a total of 17 different items of clothing (not counting underwear and hand- and foot-warmers):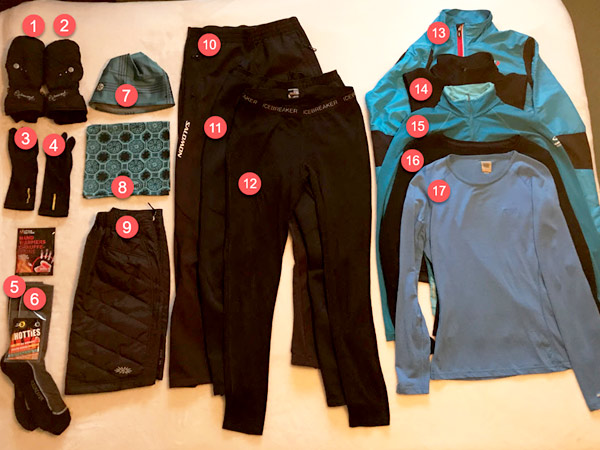 1 , 2: Outer gloves
3, 4: Liner gloves
5, 6: Thick wool socks
7: Warm hat
8: "Buff" – a neck wrap that can also pulled partially over the head, keeping the ears warm
9: My favourite item, a little insulating snow skirt (my glutes always get cold)
10: Outer ski pants, windproof on the front
11: Running tights
12: Merino wool base layer (long johns)
13: Windproof jacket
14: Windproof vest (I ended up not wearing this after all, as I thought I might be too hot)
15: Thicker merino wool mid layer; you could also use fleece here
16: Thin merino wool base layer #1
17: Thin merino wool base layer #2
And, here I am wearing all that stuff and ready to ski! It took literally 10 minutes to put it all on.
It worked out well, though! As long as I kept moving, I felt warm – even a bit too hot at the top of one hill. It was a great ski and a great day!
What's your clothing strategy for being active in frigid temperatures? Let us know in the comments!