Northern Health has embarked on a multi-year journey that will see quality improvements in digital practices and tools, both for health care providers and patients. The first two go-lives for Northern Health's SaferCare SurgCare project happened this past September and November. Vanderhoof went live on September 19 with a small celebration held to thank staff, including members from the OR department at St. John Hospital, as well as staff from the Surgical Services Program and the Information Management / Information Technology (IM/IT) team. Two months later, Quesnel went live on November 14, with a similar celebration held at G.R. Baker Memorial Hospital.
What is SaferCare?
SaferCare is a multi-year clinical quality improvement initiative to transition to more consistent clinical processes, practices, ordering, documentation, and capacity management, enabled by the electronic health record (EHR), called Cerner, that's already used across Northern Health's network of 26 hospital and health centre facilities.
"Basically, the SaferCare initiative is about advancing the functionality of our Cerner electronic health record so that it helps support improvements in terms of patient safety, effectiveness, and staff and provider experience," says Dana Cole, Clinical Co-Lead, SaferCare.
What are the objectives of SaferCare?
There are three main objectives with the SaferCare project:
Increase patient safety and effectiveness by digitally enabling clinic processes and practices.
Enable all Northerners to actively engage in their digital health information and access online health services.
Improve staff, provider, and patient experience by implementing full electronic documentation and ordering.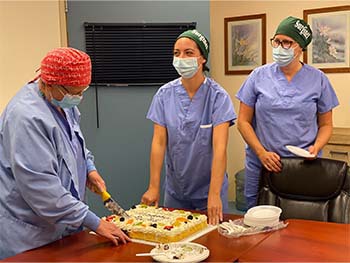 What are the benefits of SaferCare?
SaferCare aims to advance the way that electronic health records (EHR) are managed across Northern Health. Here are some ways in which SaferCare will benefit EHR:
Automation and decision support – clinical tasks are automatically checked to help prevent errors.
Clinical efficiency – physicians, nurses, and other providers will be able to access more information about patients in a single, integrated source.
Interoperability – interoperability means the ability for computer systems or software to exchange and use information. In the simplest terms, this will help to improve the flow of information across facilities within Northern Health.
Standards and configuration – SaferCare is improving electronic documentation which supports the adoption of high standards of care in every facility.
When will the SaferCare project be complete?
The SaferCare project is broken down into two phases over ten years.
Phase one happens over the next five years. This first phase will see the replacement of paper charts with electronic documentation. This will allow clinicians to view the full patient record from anywhere in the health authority and for patients and their families to access digital records directly from HealthELife.  
Phase two will happen over the next ten years. This phase includes features like bar-coding of medications, advanced decision support, and bedside device integration to improve clinical efficiency and safety.
"We're taking a two-step approach to this," Dana explains. "The first step is really about replacing the paper chart with full electronic clinical documentation and all orders to be placed electronically. We're implementing step one in each of our 26 acute care facilities, one facility at a time. Then, the second part of the work is going back and implementing close loop barcoding for medications and other instruments, and bedside device integration. This will mean that nurses will no longer need to transcribe this information into the chart – it will flow in automatically."
This work also helps to improve HealthELife and provide additional access to health records for the people we serve. HealthELife gives you 24/7 secure online access to review select services that have been scheduled in the hospital setting and view your hospital digital health information (like lab results, or x-ray reports, and more!) from any computer or smartphone. You can also access the information and services of any adult or elderly family member you may be supporting in care.
"At the same time, we already have a patient portal called HealthELife, and right now lab tests are available as soon as they are done for patients to have access to," says Dana. "The more clinical information that is available electronically, the more we can make that available easily to patients through HealthELife."
Thank you to the staff and health providers that have already been involved in adopting some of these processes and practices in the recent go-lives! We'll be sure to share more milestones in this important initiative as we go!