(This story was contributed by Rachel Phillips, the Kids and Teens in Control manager at the BC Schizophrenia Society)
The BC Schizophrenia Society supports families affected by mental illness. Their Teens in Control program supports youth ages 12 to 18 who have a family member with mental illness. Through workshops and drop-in groups, youth learn more about mental illness and build healthy coping skills. They are able to talk about their feelings and experiences with people who understand what they are going through.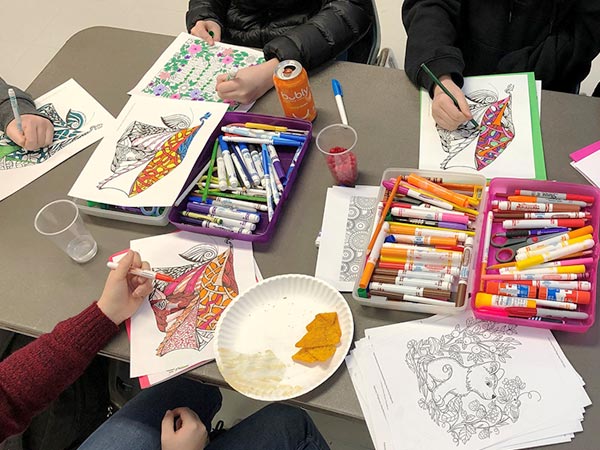 COVID-19 adds to challenges for families affected by mental illness
With COVID-19 restrictions, the group was no longer able to meet in person. The youth in the Teens in Control group shared the extra challenges they have faced with COVID-19:
Not being able to cope with problems at home in their usual ways (e.g., taking a break, seeing friends, going to counselling, or taking part in recreation programs).
Dealing with worsening mental health at home, particularly for the family member with mental illness.
Seeing their family member's changes in moods, sleep, and behaviours.
Feeling embarrassed, angry, and helpless about their parents' inability to take part in regular activities.
Feeling isolated and alone, having a hard time focusing and sleeping, and having changes in moods.
Group leaders, including program coordinator Shelley Jensen, knew youth still needed support during this time. With this in mind, the leaders moved the group online, meeting through video conference. By staying connected and being able to talk about these challenges, youth feel less alone.
Adapting Teens in Control to an online group
Leaders found ways to keep the group connected through fun activities, even at a distance. For example, they supported youth to volunteer to teach art nights, like Origami Night and Virtual Paint Night.
"Giving them the opportunity to take on a leadership role helped them recognize their strengths and resilience," says Shelley. "I could see them glow with appreciation and recognition."
"I led the paint night," says one Teen in Control youth. "I was nervous at first, but absolutely everyone was so supportive. It was very nice to know I was contributing in some way to the group because it has helped me so much!"
Shelley also put together boxes for each of the youth. These boxes included paint materials for the Virtual Paint Night, as well as snacks and information on mental illness and mental health. This small gesture went a long way.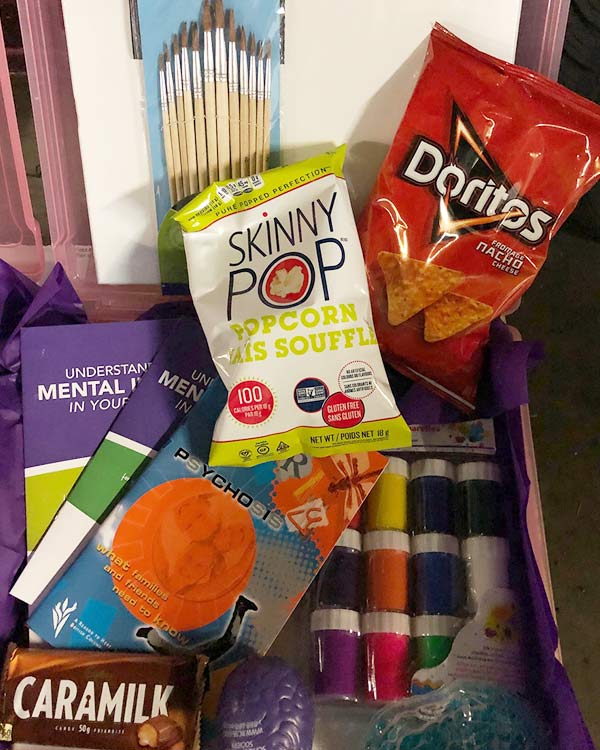 One youth says: "I loved the Self-Care Paint Night boxes! They were so thoughtful and my sister and I used or read everything in them."
How Teens in Control made a difference during this time
A 16-year-old shared how the group has helped her.
"I looked forward to these meetings every month. I had a place to talk about my feelings, what I was experiencing, and how I was handling it. I got to spend time (virtually) with people my own age. I was able to get personal advice and support, too.
"This group has been helpful for me because it gives me a place to talk about my feelings and questions, with both adults and my peers, about living with someone with mental illness. It has helpful information about mental illnesses that's easy to understand, and it helps me be more social, especially during quarantine."
Her 12-year-old sister attends the group as well and agreed with her comments.
By switching to an online format, the group continues to provide connection and support for youth, helping them cope with the added challenges they face.
Upcoming Teens in Control for youth across BC
The BC Schizophrenia Society will be offering more online workshops and drop-in groups for youth across BC this summer and fall, starting with an online Teens in Control Workshop on July 21 and July 23 from 3:30-5:00 pm.
Taking place over video conference, youth living anywhere in BC can access this workshop by computer or phone. Family members or professionals can refer youth to the workshop, or youth aged 14 and older can sign up. For more information or to register:
For more details about Kids in Control, Teens in Control, and other programs and services available to families affected by schizophrenia and other serious mental illness, visit www.bcss.org.