One of the benefits to staying at home right now, is having more time in the kitchen. Whether it's baking, recreating a favourite drink, or preparing a special meal, in these uncertain times, the act of cooking can feel therapeutic. Most of all, I love being able to share this experience with the people I care about.
Sharing culture and cooking together, virtual style
Since I moved to Terrace six years ago, many birthdays, holidays, and special occasions have been spent away from my parents. My mom and I have made it a tradition to cook together virtually. We even made matching cakes for my birthday in June! This past holiday season, a few friends and I decided we would do something similar for the holidays and host a virtual cooking club, where each of us took turns, teaching one another how to make dishes from our respective cultures.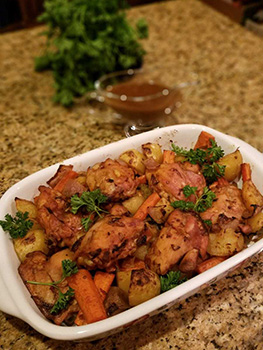 First up, the Almeida family taught us how to make traditional Portuguese food. I was especially excited to learn this. My partner's dad is also Portuguese, but unfortunately, many of the family's recipes were lost when his grandpa unexpectedly passed. We made Portuguese-style French chicken (aka Galinha à Francesa), and Portuguese chicken soup, or "canja." While it sounds fancy, the recipes were surprisingly simple and used ingredients that I already had at home. For example, the soup is prepared with rice, onions, chicken, lemon, and salt. It reminded me so much of a soup my mom made me when I was sick as a child: comforting, lemony, and delicious.
Making connections, one dish at a time
While the food was indeed amazing, my favourite part was being able to spend time with my friends and their families. When you take the time to cook together, you are not just making food, you are sharing memories and traditions. We laughed, exchanged stories, and even enjoyed listening to one of my friend's, Talina's, parents debate over whose version of the recipe was better! In the end, it was a great success and we look forward to hosting many more virtual cooking gatherings. What's on the menu next? Kavindya's Sri Lankan-style curry and my mom's famous Bulgarian spinach and cheese pie (aka banitza).
Virtual cooking may not be your thing, but there are lots of other activities that can be taken online. Play trivia, host a book or movie club, or do a craft together. In times like these, we could all benefit from a little more connection, in whatever form that may come. In the end, it's about spending quality time with the people you love.
What are some of the creative ways that you've connected with your family and friends lately?