Terraceview Lodge in Terrace is embracing changes to make it an environment that feels like home for residents. The facility recently transformed its lobby space on the second floor into a place for residents, families, visitors, and staff to gather. The result is the Kalum Café, an inviting space to socialize and enjoy a cup of coffee.
It took a lot of planning and teamwork between all of the Terraceview Lodge departments to work out the different aspects of the café.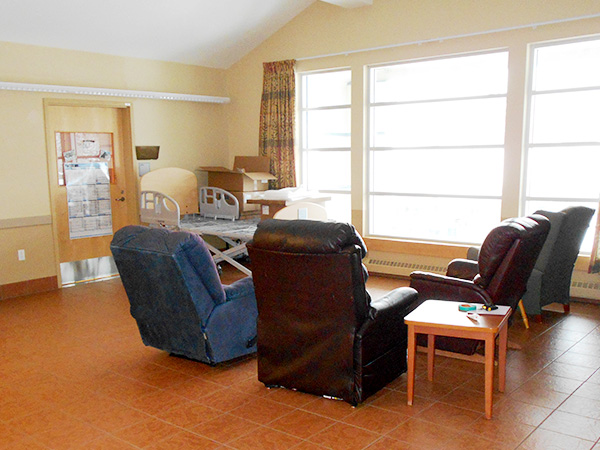 "We were lucky to have a lot of support and people who wanted to contribute and see the café come to life," says Bonnie Casault, Recreation Coordinator at Terraceview Lodge."Part of the planning involved finding ways to engage residents, families, visitors, and staff in the creation of the café. We offered an opportunity for people to vote on the café's name. We narrowed it down to two choices and residents, families, visitors, and staff voted on their favourite name. After the votes were counted, Kalum Café was the winner."
"We're so excited about this space becoming a new gathering spot that everyone can enjoy," says Cheryl Block, Occupational Therapist at Terraceview Lodge. "It has vaulted ceilings with large windows that face west with views of the mountains. It's the perfect place to experience seasonal changes including flowers blooming, trees changing colours, and snow falling.""The Kalum Café is furnished with chairs and tables that serve multiple functions," continues Cheryl. "We have comfortablechairs with foot stools and tables with adjustable heights so they're accessible for everyone. We used bright colours and included art on the walls to make the space even more inviting. Residents created a decorative wreath using coffee filters that they painted. It was a way we could have them contribute to the café's design."
Cheryl also notes that the Kalum Café serves more than a social purpose – it has clinical benefits as well.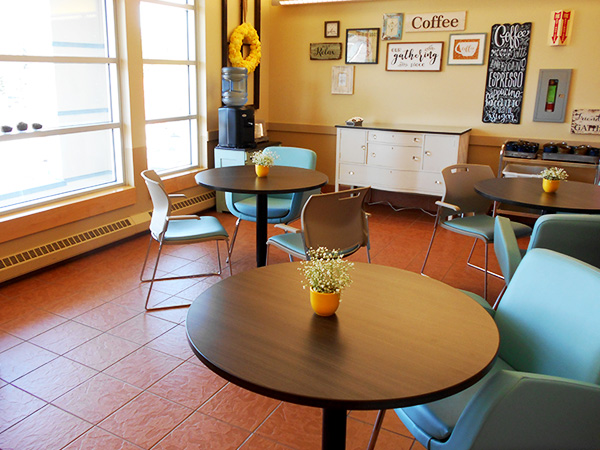 "During occupational therapy, we work on resident's mobility. This can be either walking or using a wheel chair. The café gives us a purposeful destination to go to rather than just going up and down the halls. We can also use it as a place for our different programming groups to meet."
Kalum Café had their grand opening celebration on August 28, 2019. Residents, families, staff, community groups, and local government officials all attended the celebration.