February marks Therapeutic Recreation month in Canada. Therapeutic recreation, also called recreational therapy, helps people to stay involved in healthy habits and activities. The Canadian Therapeutic Recreation Association says that by using recreation, leisure, and play as tools, clients can achieve their highest level of independence and quality of life.
Creating meaningful activities
"It's really great to see the outcomes," says Marnie Bell, who has been a recreation therapist at Northern Health for more than 20 years. Marnie currently works at the Stuart Nechako Manor long-term care home in Vanderhoof.
Northern Health recreation therapists create meaningful activities and programs that align with each client or resident's individual goals, such as group exercise classes, walking programs, and other group games and activities.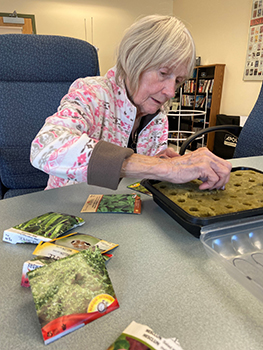 "We try to find the clients' past interests and work with their abilities to create opportunity for them to participate," adds Marnie. "It's really great to see them getting active in things they used to enjoy or even doing something they've never tried before."
But it's more than simply playing games; one of Marnie's recent projects has been working one-on-one with a resident at Stuart Nechako Manor who has a passion for gardening.
"In the summer she's our main helper with watering and planting seeds for the outside gardens," says Marnie, "so this winter we set her up with a hydroponic garden tower. It'll be her daily responsibility to go and check, water, and prune the plants, all stuff that she's missing not being home. This is keeping her engaged in something purposeful that she enjoys doing."
A unique way to celebrate
To celebrate Therapeutic Recreation Month, Marnie and her colleagues organized a virtual curling competition that is taking place throughout February. Residents from six Northern Health facilities are participating: Acropolis Manor in Prince Rupert, Bulkley Lodge in Smithers, The Pines in Burns Lake, Stuart Nechako Manor in Vanderhoof, Dunrovin Park Lodge in Quesnel, and Rotary Manor in Dawson Creek.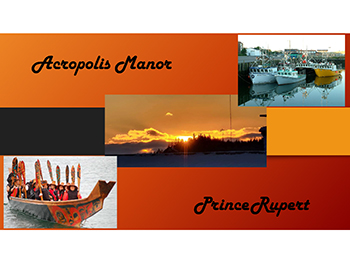 In past years, Northern Health long-term care homes have hosted curling competitions to coincide with the winter Olympics, but this is the first time a multi-facility virtual event has taken place. "They'll get into it, because they do get quite competitive… once they start actually playing and seeing some scores I think it will be a great conversation piece for families, staff, and the residents," says Marnie.
Each care home will play two games a week until the bronze and gold medal matches on February 23 and 25. Check the Northern Health Stories website again in March to read the final scores!