June is National Indigenous History Month. This is a time for all Canadians – Indigenous, non-Indigenous, and newcomers – to reflect on and celebrate the history, heritage, and diversity of First Nations, Inuit, and Métis Peoples in Canada.
While the ways in which we can celebrate may be different this year, there are still many virtual ways to show your support for Indigenous History Month.
To commemorate this month, the Government of Canada is offering a number of free promotional resources as well as fun and educational activities for children of all ages.
The graphics in this national initiative include vibrant colours meant to symbolize the four elements of nature (earth, water, fire, and air). In addition, the visuals are supported by a multi-coloured smoke* reminding us not only of Indigenous spirituality but also the colors of the rainbow. These are symbols of inclusion and diversity of all First Nations, Inuit and Métis communities and their members.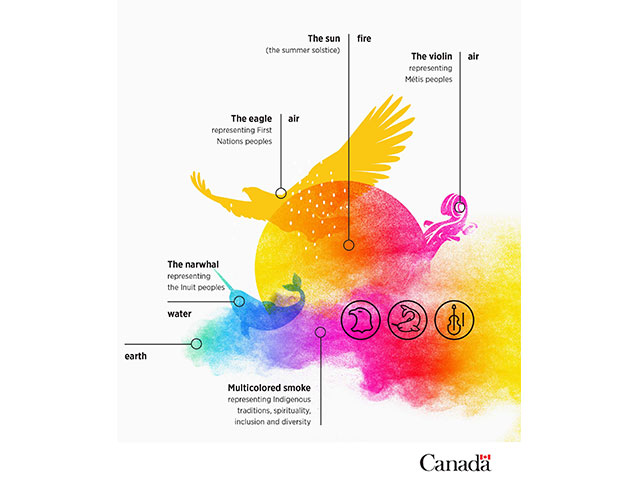 The imagery also features three icons representing distinct Indigenous Peoples as follows:
The eagle to represent First Nations,
The narwhal to represent Inuit, and
The violin to represent the Métis.
Virtual resources
Activity guide
The Celebrating Indigenous Peoples in Canada activity guide has trivia, games, and crafts for kids including:
Bracelet braiding activity
Colouring pages
Fry bread recipe
*Smoke is used in different ways by all three Indigenous groups in Canada. Whether it is to smoke fish and meat, to burn sage and tobacco or for sacred ceremonies or celebrations, it is a significant symbol in Indigenous cultures (NCCIH 2013).
References
National Collaborating Centre for Indigenous Health. (2013). Tobacco Fact Sheet. Prince George, BC: National Collaborating Centre for Indigenous Health.