As fall approaches, I enjoy those final flourishes of flowers in the garden – borage, calendula, echinacea, lavender, nasturtiums, sunflowers, roses, and violas – all blooming well into those foggy and frosty mornings that will soon greet us. Did you know that all the petals of these flowers are edible?
Add edible flower petals to your next meal!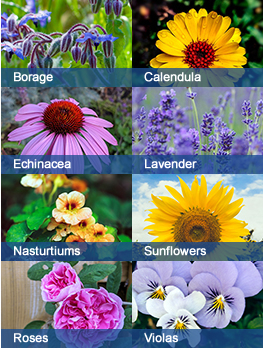 Imagine bright red, pink, orange, and yellow flower petals popping in contrast to your salad greens, as a garnish generously sprinkled over your favourite BBQ'd meat, or gently accenting a favourite dessert. You can bring the same emotional responses flowers evoke to your next meal. Your dish will become a visual study in colour contrasts, beauty, calmness, and you'll get a strange sense of joy in eating something with unique textures and flavours. Flower petals are a delicate addition to those special meals that are meant to be shared and slowly savoured.
Where to start when adding flower petals from the garden?
Now that you're excited by the possibilities, a few notes of caution to share first:
Do not pick flowers from roadsides, they should come from a garden you are familiar with.
Ensure you can clearly identify the flower you wish to use.
Ensure it has not been sprayed with any pesticides.
Check that it hasn't had a foliar fertilizer applied to it within the last two weeks.
If in doubt, leave it out. There are a number of free apps available to identify plants like PlantSnap, PlantNet, or iNaturalist.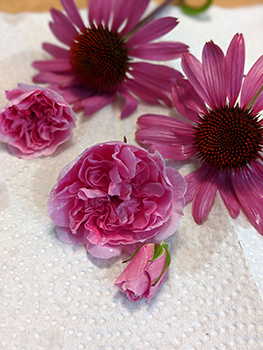 With flowers in hand, your next step is to rinse the flowers well in plain water to remove dirt and dust or any small insects. Once the flower tops are all rinsed well, pat dry and pick off the petals and save in a bowl. Just before you're ready to serve your meal, sprinkle the petals on your salad, main dish, or desert – or heck, sprinkle them on everything!
There are also a number of other ways to use flower petals in your cooking:
Added to vinegar for flavour and colour.
Candied in sugar to decorate baked treats.
Frozen in homemade popsicles.
Frozen in ice cubes.
Mixed into beverages.
Mixed into salad dressings.
Sprinkled on soft cheeses, dips, or sauces.
How will you brighten up those last BBQs of the season?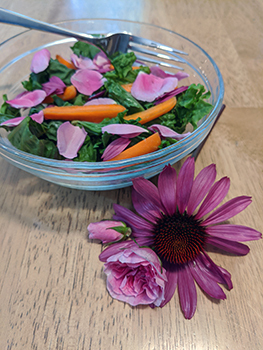 To make those special meals pop with petal power, you should pair contrasts of colour and flavours. From the flowers on my list, examples include:
Borage - Any beverage or dessert that features mint would pair well with borage which has a subtle cucumber flavour.
Calendula – A substitute for saffron, calendula is often added to soft cheeses or sauces for the colour and slight pepper taste.
Echinacea – Also known as coneflower, echinacea adds a bright splash of colour to any type of salad.
Lavender – Planning on serving savoury breads? Bake them with a little lavender to complement herbs like oregano, rosemary, sage, or thyme.
Nasturtiums – A blackened Cajun chicken dish would look amazing with yellow and orange nasturtiums, which have a unique, spicy taste that would complement the dish.
Sunflowers – Sunflower petals have a subtle nutty flavour and are wonderful accents when folded into pesto for pasta.
Roses – Cedar plank salmon would pop with colour and aroma sprinkled with dill and rose petals. The sweet smell and flavour of the rose petals is a perfect match for dill.
Violas – These petite beauties are often frozen whole into ice cubes for beverages, or pressed into icing on cakes or cookies.
I hope you use the petal power from your garden at your next meal! Share your meal time creations or links to your favourite edible flower recipes in the comments.