There's something special about students growing and harvesting food – these experiences open up an exciting world of learning, while also promoting student wellness. Caledonia Secondary School in Terrace knows this firsthand, but, you won't find a typical garden there! I chatted with Monica Strimbold, a life skills teacher, to learn about some of the creative ways student and staff at Caledonia are growing food while building other skills too.
Nurturing green thumbs, indoors
A desire for a longer growing season led the school to explore indoor growing. It started with a few indoor planters with grow lights and now, about a dozen planters line the hallways.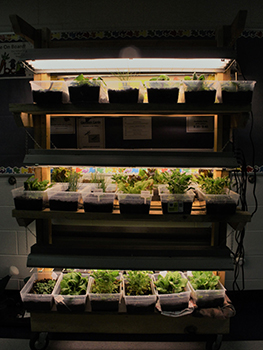 "Putting the grow beds in the hallways was ingenious," Monica says. "We could grow year-round and students saw it everyday."
Last year, several classes grew salad greens, onions, herbs, radishes, and even carrots. The life skills class also hosted a popular Mother's Day herb sale fundraiser, complete with business plans and posters designed by the students.
Building a year-round greenhouse
Could they have a longer growing season outdoors as well? Next, they aspired to tackle an even bigger project: retrofitting their existing outdoor greenhouse with electricity. To help make this a reality, the school was connected with Step3Projects, a local non-for-profit that funds and supports sustainable energy projects.   
Monica admits that a solar-powered greenhouse turned out to be a bigger project than anyone had expected. But thanks to the local expertise, the greenhouse is ready to grow! Plus, students will now get to learn about renewable energy systems.
You can learn more about Caledonia's year-round greenhouse project on its webpage on the Step3Projects site.
Fostering a "culture of involvement"   
Monica also spoke about a "culture of involvement" that links food to other school programs and activities. For example, food grown by her students is being used in the school's salad bar program and cooking classes, while the shop students pitched in to build the garden beds.
It takes a community
The project has flourished thanks to the involvement and dedication of school staff including:
Lissa Waite, life skills teacher, who runs the school canteen and day-to-day operations of the salad bar.
Kurt Bremner, shop teacher, who built the original indoor beds and has helped with building the greenhouse.
Lance Peters, shop teacher, who also helped with the greenhouse solar power retrofit.
Other community partners and agencies helped as well:
Strathcona Christian Secondary students in Edmonton: helped build the original greenhouse in partnership with Caledonia students
Farm to School BC: grant for greenhouse retrofit; linkages to local expertise
Step3 Projects: funding and local expertise for the greenhouse retrofit
West Coast Seeds: seed donations
Save-on Foods and Canadian Tire: funding for seeds and soil
Northern Health: salad bar equipment loan
Farm to Cafeteria Canada: grant to purchase salad bar equipment
Looking to the future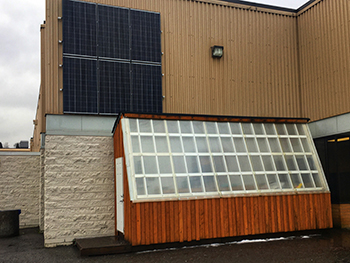 This year has brought new challenges, but Monica's class is looking forward to getting their hands back in the dirt. This spring they hope to start growing in the greenhouse early, while there is still frost outside. To do this, they will experiment with what temperature to grow seedlings, and ensure that the watering and electrical systems work properly. Over the next few months, they'll prepare the soil, create garden labels, seed, as well as water and maintain the greenhouse and indoor beds. Monica's long-term goal is to develop an outdoor gardening unit as part of the physical education class so that more students can get involved. 
Sage advice
Monica has advice for schools interested in growing food: she suggests that they think about how these activities can fit into a variety of courses and programs.
"It's about using what's in front of me to teach students more effectively," she says. "Start small and people will get curious! There is quite a bit funding out there and a lot of smaller grants."
If you have questions about resources for school food programs in the North, visit the Northern Health School Food Programs page or connect with a Northern Health population health dietitian at PopHthNutrition@northernhealth.ca .