Did you know that jarred baby foods have been around for 100 years, since the 1920s? Today, the baby food section of the grocery store looks a little different, with plastic squeeze pouches taking up as much shelf space as all other store-bought baby foods combined!
I'm a dietetic practice education student at the University of British Columbia. During a recent virtual placement with one of the Northern Health population and public health dietitians, I completed a project on store-bought baby foods (i.e. commercial infant foods). As I browsed through these products in local stores, I found it to be a bit overwhelming. Maybe you feel the same way? Today, I share with you some of the things that I learned. 
What are store-bought baby foods?
Store-bought baby foods are solid foods that are typically marketed for children ages 6+ months to 12+ months. They seem to fit into one of these five groups:
Jarred foods: These are mainly fruit and vegetable purees. Only a couple options include fish and meat.
Food in squeeze packets: These are also mainly fruits and vegetable purees, although some also have added grains.
Infant cereals: These include dried oats, rice, barley, or multigrain mixes. Once mixed with water, or breast milk, these also achieve a pureed texture.
Puffed products: These include puffed rice stars and dissolvable biscuits.
Entrées:  I only found 7 products like this including pasta, or peas and carrot cubes with mashed potatoes. Textures vary from lumpy to soft finger foods depending on the entrée.
Where's the texture?
Even though store-bought baby foods come in a variety of packages, brands, and flavours, I noticed that they don't offer much variety in texture. Most products are pureed, regardless of whether companies label their products with "6+ months" or "12+ months". Only the entrées had a bit more texture - they reminded me of the bag of frozen peas and carrots I have in my freezer.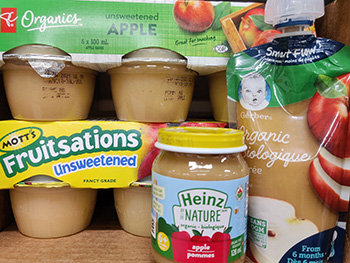 Money savers
In my research, I noticed that store-bought baby foods are pricey, often between $1 to $3 for about a half cup serving. The good news is that many "regular" foods, that are not specifically marketed as being for babies, are basically the same product for a fraction of the cost!
For example, a squeeze pouch of baby apple puree costs up to $1.99 per 128mL (1/2 cup) serving, while regular applesauce only costs about $0.40 for the same sized portion. They are both just pureed apples, but the squeeze pouch of applesauce is five times more expensive that the regular stuff.
Similarly, baby puffed snacks cost $0.66 per 10g serving, while multigrain cheerios cost $0.12 per 10g serving. Again, the "baby" item is 5 times the cost of the "regular" item – a big difference!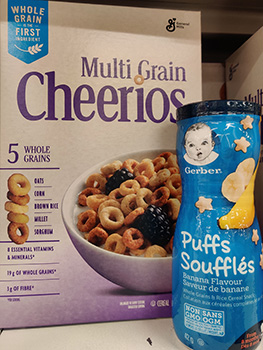 Tips for feeding babies:
Whether or not families choose to offer store-bought baby foods to their babies, here are some tips to consider:
Start offering solid foods when babies show signs that they are ready. This is often when they are about 6 months old, although some are ready sooner, some later.
Start by offering a variety of textures, such as minced, mashed, grated, or pureed foods. Finger foods are great as well. For more ideas, see this resource: Feeding babies age 6 – 12 months
Sit down to eat together, when possible. Eating time is social time.
Share food. This is a great way for babies to learn about eating from those around them. It can be as simple as offering some tender-cooked meat and veggies from the family dinner. 
If offering store-bought baby food:

Follow baby's lead, not the package. Babies can often manage more advanced textures than what's implied by the age on the food label.
Because the texture of store-bought foods is limited (i.e. mostly pureed), aim to also offer a variety of foods from family meals, in a variety of textures. This helps babies to develop their eating skills.
To learn more: